44th Playing Of The Memorial Tournament Presented By Nationwide Sets Charitable Giving Record
Published on Thursday, December 05, 2019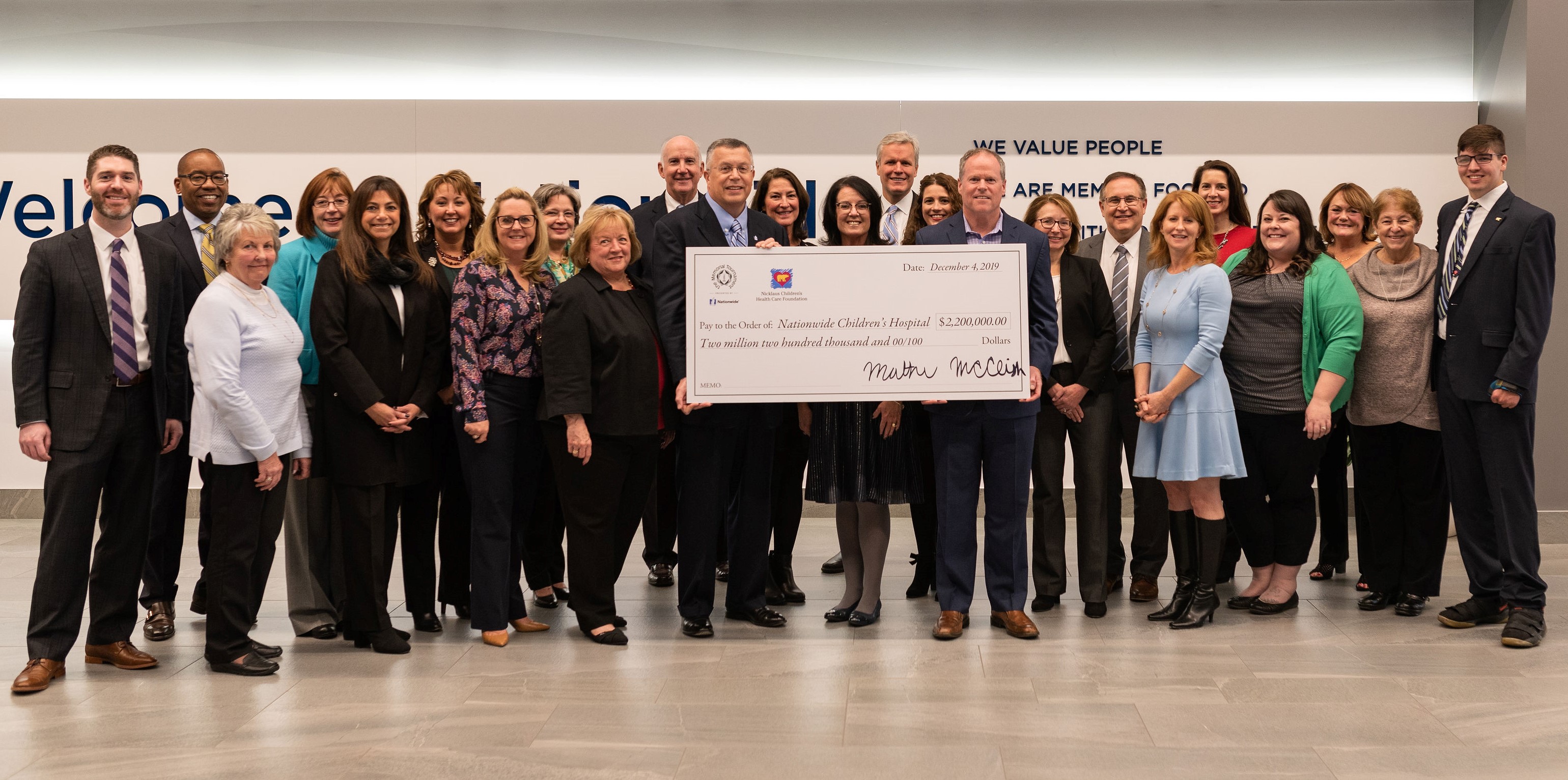 Dublin, Ohio – Officials of the Memorial Tournament presented by Nationwide announced today that the 44th playing of the prestigious invitational, concluded June 2, 2019, raised a total of $2.65 million for charitable organizations in central Ohio, including a record-setting $2,200,000 for Nationwide Children's Hospital through an alliance with the Nicklaus Children's Health Care Foundation. It is the second consecutive year the Tournament's charitable giving total topped $2 million. Since its inception in 1976, the Memorial has eclipsed $35 million in donations to central Ohio charities, with more than $22.7 million going to Nationwide Children's.

True to the hearts of Jack and Barbara Nicklaus, the Memorial Tournament presented by Nationwide includes as one of its primary objectives a genuine philanthropic vision. Embodied in the Memorial's enduring partnership with Nationwide Children's and support of its Memorial Tournament Neonatal Intensive Care Unit, pediatric care is at the center of each campaign and event these entities jointly execute.

"Charitable giving has been a driving force for the Memorial from its beginning," said Dan Sullivan, the Tournament's executive director. "We are thrilled that the Tournament has been successful in growing its commitment to the local community and charity, especially its more than 44-year relationship with Nationwide Children's Hospital. Partners like Safelite AutoGlass and NetJets, presenting sponsors of the 2019 Legends Luncheon and Benefit Concert respectively, contributed greatly in making this another record year in charitable giving, including surpassing the $2 million mark to Nationwide Children's for the second straight time. Also central to the Memorial's successful charitable campaign is the shared philanthropic vision of presenting sponsor Nationwide, and we are grateful to continue that relationship through the 2021 Tournament."

"Additionally, the Memorial's proud and long-standing history of charitable giving in central Ohio and beyond is exhibited by the Tournament's volunteer corps, in particular the members of the Nationwide Children's Hospital Committee and the over 2,000 Nationwide Children's volunteers. This dedicated and selfless workforce is an essential ingredient in making the Memorial one of the top tournaments on the PGA TOUR and a must-attend event in central Ohio."

"The Memorial Tournament presented by Nationwide is a national sports gem that generously helps Nationwide Children's Hospital continue its mission of creating best outcomes for children everywhere," said Tim Robinson, CEO, Nationwide Children's Hospital. "The charitable alliance between Nationwide, the Memorial Tournament and Jack and Barbara Nicklaus is instrumental in the hospital's ability to deliver the highest quality of care to those living in our community and around the world."

Nationwide, which has been the Tournament sponsor for nine years, shares a similar tradition of support for Nationwide Children's. Nationwide is committed to broadening the impact of its presenting sponsorship of the Memorial Tournament to bring greater awareness and increased funding to Nationwide Children's and to those who benefit the most – families and children in need of care. That commitment was on full display in December 2015 when Nationwide, the Memorial Tournament and the PGA TOUR announced a six-year relationship that began with the 2016 Tournament. The agreement extends the partnership among the three organizations through 2021.

"Nationwide takes great pride in partnering with the Memorial Tournament to shine a spotlight on the life-saving work taking place at Nationwide Children's Hospital," said Nationwide Chief Marketing Officer Ramon Jones. "We look forward to sharing the stories of patients, doctors, nurses and staff through this platform once again next year."

The 2020 Memorial Tournament presented by Nationwide is scheduled for June 1-7 at world-renowned Muirfield Village Golf Club. The public may call the Tournament Ticket Office 9 a.m.-5 p.m. weekdays at 877-MT BADGE or visit http://www.mtbadge.com to purchase badges. Kids 18 and under can attend for free with a ticketed adult. Daily practice round tickets for Monday, Tuesday and Wednesday are also available. The introductory cost is $35, and they are valid for all three practice-round days.

Please note: the official name of the event is the Memorial Tournament presented by Nationwide.
About the Memorial Tournament presented by Nationwide
The Memorial Tournament presented by Nationwide is held annually at Muirfield Village Golf Club in Dublin, Ohio, a suburb of Columbus. The Tournament, founded and hosted by Jack Nicklaus, is conducted each year with three goals in mind: to honor the memory of individuals living and deceased who have distinguished themselves in the game of golf; to showcase the world's best golfers competing on one of the most challenging venues in the world for the enjoyment of spectators; and to benefit many Greater Columbus Charities in alliance with the Nicklaus Children's Healthcare Foundation, Nationwide Children's Hospital and numerous other local organizations. For more information, visit www.thememorialtournament.com or call 614-889-6700.



About Nationwide
Nationwide, a Fortune 100 company based in Columbus, Ohio, is one of the largest and strongest diversified insurance and financial services organizations in the United States. Nationwide is rated A+ by both A.M. Best and Standard & Poor's. An industry leader in driving customer-focused innovation, Nationwide provides a full range of insurance and financial services products including auto, business, homeowners, farm and life insurance; public and private sector retirement plans, annuities and mutual funds; excess & surplus, specialty and surety; pet, motorcycle and boat insurance. For more information, visit www.nationwide.com. Follow us on Facebook and Twitter.
Nationwide, Nationwide is on your side and the Nationwide N and Eagle are service marks of Nationwide Mutual Insurance Company.


About Nationwide Children's Hospital
Named to the Top 10 Honor Roll on U.S. News & World Report's 2019-20 list of "Best Children's Hospitals," Nationwide Children's Hospital is one of America's largest not-for-profit freestanding pediatric health care systems providing wellness, preventive, diagnostic, treatment and rehabilitative care for infants, children and adolescents, as well as adult patients with congenital disease. Nationwide Children's has a staff of more than 13,000 providing state-of-the-art pediatric care during more than 1.5 million patient visits annually. As home to the Department of Pediatrics of The Ohio State University College of Medicine, Nationwide Children's physicians train the next generation of pediatricians and pediatric specialists. The Abigail Wexner Research Institute at Nationwide Children's Hospital is one of the Top 10 National Institutes of Health-funded freestanding pediatric research facilities. More information is available at NationwideChildrens.org.