1981 Recap
Dates: May 21-24, 1981
Purse: $380,445
Par: 36-36=72
Yardage: 7,116 yards

View Scoreboard
---
Leaders
First Round – Mark Hayes,with a five-under par 67, led by one over Bobby Clampett, Tom Purtzer, Lanny Wadkins and D.A. Weibring. Second Round – Keith Fergus was at five-under l39, one shot ahead of Dan Halldorson and Wadkins. Third Round – George Archer,Tom Kite and Craig Stadler were at four-under 212, one ahead of Tom Watson, Ben Crenshaw, Weibring and Fergus.
---
Notes
Cut Notes: 76 players (73 pros, 3 amateurs) at eight-over par 152.
Missed Cut: Buddy Allin (73-81-MC), Miller Barber (78-81-MC), Bob Gilder (75-78-MC), Mike Gove (80-78-MC), David Graham (81-75-MC), Phil Hancock (80-74-MC), Brian Jones (79-75-MC), Bill Kratzert (80-WD), Gene Littler (77-76-MC), Gary Player (79-75-MC), Hal Sutton (78-77-MC), B. Thompson (73-81-MC), John Traub (81-77-MC), Howard Twitty (76-81-MC), Bobby Wadkins (82-73-MC), Bill Kratzert (80-DQ).
Weather: Mostly sunny and pleasant every day.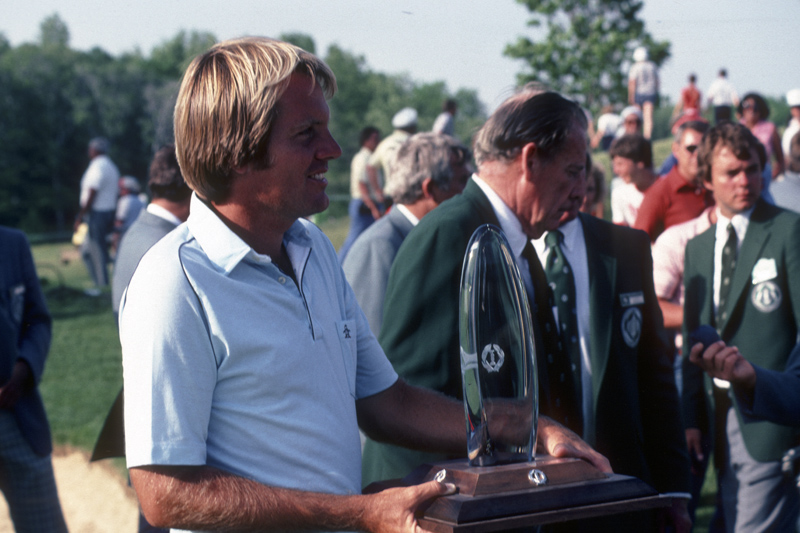 Keith Fergus Wins the 1981 Memorial Tournament
"I wondered what it would feel like to win," confessed Keith Fergus. Who had been trying, in vain, for 4-1/2 years to enjoy the experience on the PGA TOUR. It finally came and it was sweet to savor. Particularly when it happened in the prestigious Memorial, against a powerful field and on one of the nation's toughest courses, Muirfield Village. Fergus produced a championship second shot on No. 18 to edge Jack Renner by a single stroke, 284-285.
"I've waited for this for a long time," said the 27-year-old Texan, relaxing in the first glow of triumph. "I've been putting in a lot of long hours. I've been working very hard. I often wondered if it was worth it. Believe me, it's worth it!"
If Fergus's break through surprised casual followers, it didn't surprise his fellow TOUR players. Renner's comments represented general reaction. "He's a great, great player," attested the 24-year-old Renner. "He plays the tough courses well. He's very, very highly respected among the young players."
As usual, the Memorial finish wasn't routine. Fergus, a former University of Houston All American from Sugarland, Texas maintained a one-stroke advantage over Renner coming to No. 18, but landed his drive just into a bunker to the right of the fairway. The ball nudged up near the fringe, a decidedly treacherous position. Renner drove into the same bunker, but had a much better lie. Renner hit first and landed a 4-iron on the green, 35 feet from the pin. Standing just outside the sand and 6-8 inches above it, Fergus managed to loft a 6-iron 155 yards onto the green, 30 feet from the pin - a brilliant recovery that brought an appreciative cheer from the huge gallery. Renner missed his birdie bid, Fergus approach putted safely to within two feet "it seemed longer than that," he said afterward - and relievedly holed out for the $63,000 check.
Excellent weather greeted the Memorial. "We couldn't have had a more perfect day for golf," happy host Jack Nicklaus said after first round. However, only 20 of the 91 players broke par. One of them was Fergus with a 71, but he was four strokes from leader Mark Hayes, who bagged six birdies in a 5-under-par 67. Some of Hayes' approach shots were dazzlers, stopping two, three, six and seven feet from the cup and another three inches.
"This is probably the most enjoyable place in the world to play golf," said the elated Hayes, "And this probably the best tournament." Tom Purtzer, D.A. Weibring, Lanny Wadkins and Bobby Clampett were at 68. Tom Watson finished birdie-birdie-par-birdie for a 72. Clampett became involved in the day's most celebrated "incident. " He and playing partner Mike Gove hit into the same bunker at No. 17, with Gove's ball only about 15 inches behind Clampett's ball. Clampett marked his ball, which was legal. After Gove hit he raked the sand, also legal. In resetting at the coin, Clampett noticed a small pebble behind his ball, either uncovered or splashed there by Gove's explosion. Clampett removed the pebble, then immediately called for a ruling, fearing he had broken a rule. After several lengthy discussions and perusal of the rule book, it was decided Clampett incurred no penalty. The pebble was ruled in the same context as a divot which lands in a bunker - which can be removed without penalty.
At the time, Clampett's move of the pebble seemed momentous, because he was then 6-under-par. He made a natural double bogey. He didn't need a penalty, too. Nicklaus had a one-birdie, one-bogey 72, while defending champion David Graham struggled to an 81 and hurried himself to a doctor for treatment of an aching back (he returned for the second round and shot 75, but missed the cut).
Three birdies in the last four holes elevated Fergus to the second round lead at 68-139, one better than Wadkins and Dan Halldorson and two ahead of Craig Stadler. Nicklaus added a 71 for 143. First round leader Hayes dipped 7-under after 11, but ran into three bogeys: Weibring was once 6-under and Halldorson 5-under, but both faded. Ben Crenshaw tied a tournament record with eight birdies, but bogeys on the last three holes dropped him to a 69. Stadler, Tom Kite and 41-year-old come backer George Archer climbed atop the standings (212) in the third round, with Fergus, Crenshaw, Weibring and Watson only one back.
Twenty pros were within four strokes of the lead. As he has done more than a few times, Stadler looked like he meant to end the tournament early. He owned a two-stroke lead at the turn, thanks to four birdies in six holes, and upped it to three at 8-under with a 30-foot birdie putt on No. 13. But, as he said later, "this is the kind of course where nobody is going to run away" from the field. His second shot on No. 14 bounced off the bank and into the creek, with a double-bogey result. He pulled his drive into the woods on No. 15 and suffered through a double-bogey seven.
"Your basic disaster," he conceded. "I hit three bad shots and it cost me five strokes." Kite, who was to go on to the TOUR money title and "Player of the Year," managed birdies on Nos. 15 and 16 for a 69; Archer played steady golf for a matching 69; and Crenshaw missed a share of the lead because of three straight bogeys, starting at No. 15. "It's about as scary a golf course as I've seen," Kite commented. "I don't think there's any golf course I've played where you can make a high number as fast as here. When you shoot in the 60's, you're going to pass a whole lot of people."
Fergus, who had made 40 straight cuts through the first half of 1981, started the final round with a birdie on No. 1, but Watson had already grabbed the lead with two birdies for 5-under (tournament). When Watson dropped a stroke on each of the next three holes, Fergus' 4-under moved back to the top. A bogey by Fergus and a birdie by Renner at No. 10 gave the latter a stroke lead, but they reversed the order on No. 12. Fergus parred in for the championship, although Renner matched his final round 71.
Japan's Isao Aoki turned in the day's best among only seven pros who broke par, a 2-under 70. Watson, Archer, Stadler and Purtzer shared the 287 bracket; Kite, only one behind Fergus until a bogey on No. 17, Halldorson, Wadkins, Hayes and Fuzzy Zoeller were at 288 and Nicklaus and John Mahaffey at 289.
The weather was favorable all week and the crowds were said to be the biggest yet. The course was at its finest and the greens their speediest 11.4 on the Stimpmeter Thursday and Friday, 11.5 Saturday and 13.0 Sunday, when 9.0 is considered tournament fast.

View 1980 Recap