1984 Recap
Dates: May 24-27, 1984
Purse: $565,500
Par: 36-36=72
Yardage: 7,116 yards

View Scoreboard
---
Leaders
First Round – Gil Morgan, Bob Murphy and Payne Stewart shot five-under par 67`s and led by one over Ben Crenshaw, Bruce Lietzke and Larry Nelson. Second Round – Crenshaw added a 70 for a six-under par 138 and led by one over Jack Nicklaus. Third Round – Chip Beck shot a 68 for a seven-under par 209 and led by one over Nicklaus.
---
Notes
Cut Notes: 72 players (71 pros and one amateur) at seven-over par 151
Missed Cut: John Adams (77-81-MC), Ken Brown (78-77-MC), Brad Bryant (77-75-MC), Bobby Clampett (74-78-MC), Frank Conner (74-79-MC), Fred Couples (75-80-MC), Nathaniel Crosby - A (83-80-MC), Dave Edwards (74-80-MC), Lee Elder (78-75-MC), Brad Faxon (78-76-MC), John Fought (76-77-MC), Peter Fowler (73-79-MC), Bob Gilder (74-79-MC), Phil Hancock (77-75-MC), Morris Hatalsky (76-78-MC), Vance Heafner (75-78-MC), Lon Hinkle (79-75-MC), John Jacobs (75-80-MC), John Mahaffey (71-83-MC), Mark O`Meara (77-75-MC), Arnold Palmer (75-79-MC), Nick Price (75-78-MC), Larry Rinker (74-80-MC), Bill Rogers (76-77-MC), Scott Simpson (79-74-MC), Tim Simpson (74-78-MC), Joey Sindelar (75-80-MC), Dave Stockton (81-75-MC), Ron Streck (75-79-MC), Leonard Thompson (72-80-MC), Lee Trevino (74-78-MC), Fuzzy Zoeller (71 -79-WD), Sammy Rachels (WD).
Weather: Mostly sunny every day. Winds were strong on Friday, 15-to-20 miles per hour, gusting to 30.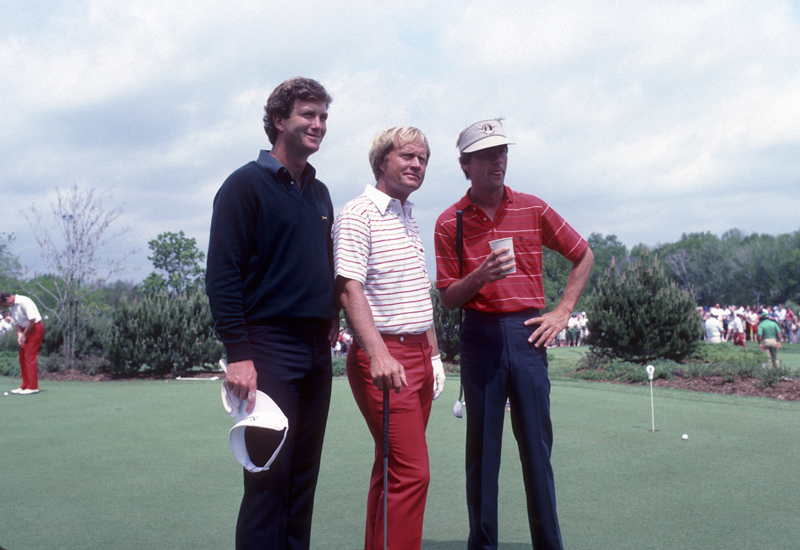 1984: Jack Nicklaus Captures His 2nd Memorial Tournament Victory
That Jack Nicklaus became the first repeat champion of the Memorial Tournament in the second-ever playoff is the basic historical fact. That both the 1984 winner and runner-up, Andy Bean, tied the tournament record with 280 strokes in regulation is also significant data. But events of the last five holes (71 through 75) turned this into one of the most memorable of the first nine Memorials.
The charging Bean, with seven birdies in 11 holes, caught playing partner Nicklaus at 9-under-par at No. 16 and drove safely on No. 17. Nicklaus' drive sailed out of bounds far right, with the ball bouncing off a cart path and even-tually settling under a picnic table on the wood deck of a Muirfield Village residence.
"I couldn't believe I made that shot," Nicklaus said afterward. "The first thing that ran through my mind was that I was going to lose the tournament. I said to myself "the only way I've got a chance is to make birdie on the next ball."
His next drive split the fairway and a 4-iron second landed on the green, 25 feet from the flag. He curled in the putt, with the penalty, for a bogey. Bean managed his par safely and Nicklaus dropped to second place at 8-under. Again, on No. 18, Nicklaus erred with the driver. The ball skipped through a bunker right of the fairway and into high grass above it.
"I felt like "here it is again: it's all over" he recalled. From a distinctly awkward stance, he powered a mighty 8-iron out of the heavy grass, but short of the green and to the left, with a bunker intervening. After Bean had sailed his second into the back fringe, Nicklaus lifted what he properly called a "beautiful chip" over the hazard and within five feet of the cup. Bean chipped down four feet short and, even though Nicklaus had holed out for a par, gallerities - and the commentators on the CBS TV tower - felt Bean's name on the Memorial trophy and the $90,000 check was all but assured.
Not so.
The putt tip-toed by the cup. "I misread it," said Bean, later recounting the unhappy details. "I thought it would be left center, but it stayed on the left edge." Nicklaus conceded nothing. He didn't remove his golf glove. "I knew Andy's putt was not an easy one," he said later. "I knew if he hit it very firm, he'd hit it right through the break and that's exactly what he did."
That set up the sudden-death playoff, the Memorial's first since the epic between Roger Maltbie and Hale Irwin in the tournament's first year, 1976. "On a golf course like this," Bean said, "I really thought if I shot a 67 today, I'd win." He shot the 67 to Nicklaus' 70. Both Nicklaus and Bean birdied the 490-yard No. 15, the first extra hole, parred No. 16 and appeared headed for another standoff on No. 17 when Nicklaus' 6-foot birdie try slid by the cup and Bean had only a 3-footer to halve.
But again it wasn't over 'til it was over. Bean missed the "sure" putt and Nicklaus watched the title and the check fall into his hands. "It was a tough way to lose," Bean confessed. "I thought the putt would go straight and it went left. But I'll be back next year and maybe the Golden Bear will be a little older."
"I don't like to win on somebody else's misses,: Nicklaus conceded, but he wasn't apologizing, because "I played very well all week (69-70-71-70) and in the playoff I hit every shot as well as I could." Also, the victory held extra significance, even if it didn't quite match the thrill of his first Memorial (1977 review). Nicklaus savored this one because it broke a two-year win drought; was the 70th of his career; reinforced his admittedly-wavering confidence that he could still win at age 44; and, of course, it was the Memorial "the tournament I dearly love and am proud to win again."
Course designer/tournament founder Nicklaus further insisted, "the Memorial means more to me than any other tournament, including the 'majors,' but in a different way." Bean had valid reason to be disappointed. He'd played the final 36 holes in 67-67 - 134, the best finishing rounds in Memorial history, but he ruefully conceded, "I made a couple of mistakes and it cost me."
Opening day penned a bit of history, too: the greatest birdie barrage ever fired at Muirfield. With a field of 104, warm, windless weather and a course softened by Wednesday night rains, 29 players broke par - 12 of them under 70 -- and another 16 matched it. Beknickered Payne Stewart set a new tournament record with a 30, 6- under-par, on the front nine enroute to a 67 that tied him with Gil Morgan and Bob Murphy. Bruce Lietzke, Masters Champion Ben Crenshaw and U.S. Open Champion Larry Nelson were at 68 and Nicklaus among six 69's. Stewart had five birdies in a row, starting at No . 4. With the wind blowing at 15-20 mph, and gusting up to 30 mph, Crenshaw did what he does best, putting, and grabbed the second round lead at 70-138. He used only 22 strokes on 17 greens and chipped in from 60 feet on No. 13 Nicklaus moved in to second place, also with 70 for 139, with Morgan, Murphy and Gary Koch at 140. Bean slipped with a 75 (146).
Only nine players broke par. An unexpected name jumped to the top of the leader board Saturday. Chip Beck had never led at PGA TOUR event after 54 holes in six years as a pro, but he finally did it with a 68-209 that gave him a one-stroke edge over Nicklaus (71) and four over Bean (67) and Koch. Tom Watson set himself up for a final-round charge with a 71-215, but Crenshaw became a major casualty. After dipping 7-under (tournament) at the turn, the Masters champ suffered a triple bogey seven on No. 10 and bogeyed five more times for a back nine of 44.
Beck, playing with Nicklaus and Bean in Sunday's final threesome, opened with a bogey and it was a two-man race from there. He finished 74-293 to tie Maltbie, who shot a closing 67, and Stewart for third. Twenty-two pros bettered par on a fourth straight hot, sunny day, but nobody did it better than Mark McCumber. He recorded eight birdies and avoided a bogey for a 33-31 - 64 that erased Tom Weiskopf's tournament record of 65 set in 1983, also in the final round, and tied the course mark set by Craig Stadler in the 1979 Pro-Am.
"To shoot 64 at Muirfield means more to me than you can imagine," said McCumber, who leapt over a lot of people into a 10th place tie. With ideal weather all week, the crowds were the largest ever, prompting the Memorial Executive Committee to establish a limit on badge sales for 1985.
View 1983 Recap