1989 Recap
Dates: May 11-14, 1989
Purse: $1,004,290
Par: 36-36=72
Yardage: 7,104 yards

View Scoreboard
---
Leaders
First Round – Fuzzy Zoeller shot 3-under par 69 and led by one stroke over Payne Stewart and Fred Couples. Second Round – Zoeller added a six-under par 66 for a 9-under par total of l35. Ray Floyd, Bob Tway and Mark Calcavecchia were five strokes back at 4-under par l40. Third Round – Zoeller pitched in for birdie at the final hole for an even-par 72 and total of 9-under par 207. Tway, after a 68, was one stroke behind at 208. Couples and Bruce Lietzke were at 212.
---
Notes
Cut Notes: 70 players from a field of 117 at 6-over-par 150.
Missed Cut: Isao Aoki (76-75-MC), Andy Bean (77-80-MC), Chip Beck (80-72-MC), Jim Benepe (85-80-MC), Phil Blackmar (74-78-MC), Jim Booros (82-79-MC), Mark Brooks (74-78-MC), Brian Claar (80-78-MC), John Cook (77-81-MC), Steve Elkington (77-75-MC), Keith Fergus (76-80-MC), Dan Forsman (82-72-MC), David Graham (81-78-MC), Hubert Green (79-80-MC), Ken Green (74-77-MC), Jay Haas (81-71-MC), P.H. Horgan III (76-76-MC), Mike Hulbert (75-79-MC), Kevin Johnson (83-78- MC), Steve Jones (78-74-MC), Masahiro Kuramoto (74-82-MC), Wayne Levi (78-74-MC), Roger Maltbie (79-73-MC), Blaine McCallister (79-78-MC), Mark McCumber (75-77-MC), Eric Meeks (84-82-MC), Gil Morgan (78-74-MC), Jodie Mudd (79-75-MC), Andy North (79-80-MC), Jerry Pate (77-74-MC), Steve Pate (77-78-MC), Kenny Perry (73-78-MC), Dan Pohl (78-76-MC), Don Pooley (75-76-MC), Nick Price (79-73-MC), Tom Purtzer (78-73-MC), Ted Schulz (76-77-MC), Tom Sieckmann (76-77-MC), Jim Simons (75-79-MC), Joey Sindelar (80-79-MC), Hal Sutton (78-73- MC), Greg Twiggs (81-74-MC), Bobby Wadkins (77-78-MC), Tom Watson (78-73-MC), Danny Yates (80-78-MC), Curt Byrum (83-WD), Calvin Peete (77-84-DQ), Jeff Sluman (76-70-74- DQ).
Weather: Thursday, mostly sunny but cold. Friday, rain off-and-on all day. Saturday, due to overnight rains, start delayed from 7:38 in pairs to 11:10 in threes off Nos. l & 10 tees. Sunday, heavy fog delayed start from 8:49 in pairs to 9:45 in threes; mostly sunny thereafter.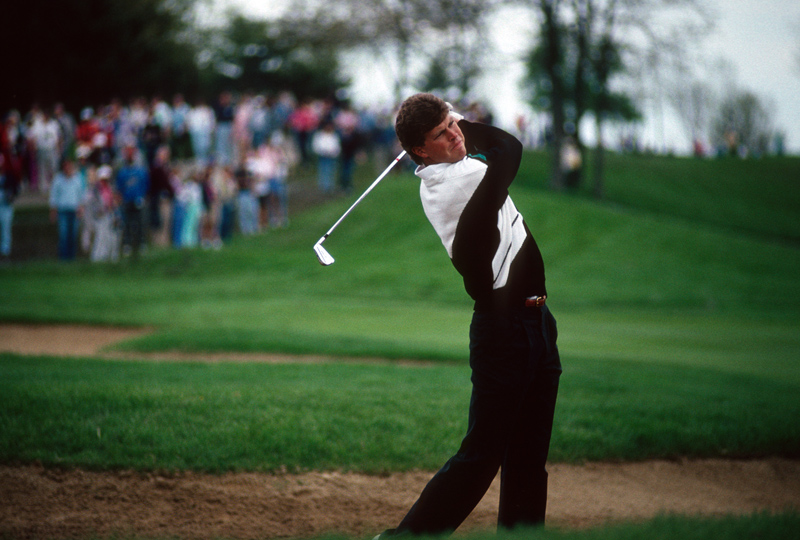 Bob Tway Wins the 1989 Memorial Tournament
Robert Raymond Tway is an Oklahoman, but his golfing "clutch" seems to kick in best in Ohio. He holed out of a bunker on the 72nd hole at Inverness in Toledo to beat Greg Norman in a tense battle for the 1986 PGA Championship. He didn't hole out in an exciting duel with Fuzzy Zoeller for the 1989 Memorial Tournament title, but he uncorked three of the most memorable golf shots played in the tournament's first 14 years.
Zoeller, with a chance to become the first wire-to-wire winner, led by one shot entering the final round, but Tway pulled ahead at No. 11 with a 3-foot birdie putt, while Zoeller's sand trouble cost him a bogey. They traded places on the No. 12 lake hole, Tway doing the bunker thing and Zoeller landing his tee shot three feet from the cup to set up a birdie. Tway gained a tie on No. 13 with a 35-foot birdie putt - not exactly a routine stroke - and forged in front with the first of his truly spectacular shots. On the 490-yard No. 15, he nestled a nine-iron within six inches of the cup for a tap-in birdie and a one shot margin, but Zoeller again squared the "match" with a 20-foot birdie on the 204 yard No. 16. Tway then outdid his No. 15 approach, settling a 7-iron shot within two inches of the hole on No. 17 to again enjoy a stroke advantage.
"Normally, in a day, you don't hit two shots that close," he confessed. "I was a little bit lucky to do that. But I hit good shots." But he wasn't through dazzling the huge, and by now, bedazzled gallery. His 3-wood tee shot on No. 18 hit a tree that guards the dogleg right of the fairway and this time he really WAS lucky. The ball bounced back into the fairway, although still with the tree in his flight line. Tway hooked a 5-iron approach around the tree and onto the green, 25 feet to the upper right. Zoeller played his second 14 feet from the flag.
So the drama still lived: a likely two-putt and a birdie and it'd be off on the Memorial's third-ever playoff. But Tway canceled extra innings. "I was just trying to lag it down and two-putt," he explained later. But the ball curled unerringly into the cup. It was his 277th stroke (71-69-68-69), while Zoeller's miss for birdie, purely academic, left him at nine-under par 279 (69-66-72-72).
"I kind of forgot what it felt like to win," Tway confessed. "It' s awesome. It's been three years since I won the PGA in Toledo and people have been hounding me about what's wrong with me."
"I thought this was my week," confided Zoeller, "but it wasn't. I played well, but just not well enough. He had some good bounces, but I had my share of good bounces the first three days. I'm not disappointed."
Smiling, he gave Tway a "high-five" as they passed on the eighteenth green, a sporting gesture typical of the popular Fuzzy and one likely to be remembered by the gallery-which had already experienced a lot to remember. Although the 1989 Memorial came down to essentially a two-man duel, an unusual number of challengers kept the leaderboard exciting. Payne Stewart fired the best round of the Tournament, a six-under-par 65, and trailed Zoeller and Tway by only a stroke after No. 14. He eagled No. 5 and posted birdies on Nos. 7-8-9-11-14, before cooling off to a third place finish at 281.
Mark Calcavecchia birdied the last three holes of the front nine to edge within a stroke of the lead, but wound up in a tie for fourth (283) with Bruce Lietzke, whose birdies on Nos. 4-5-6 put him within two of the front-runners. Mark O'Meara came within two of the top with a birdie at No. 12, but bogeys dropped him into a tie with Scott Verplank for sixth (284). Zoeller's 36-33-69 was the only sub-70 effort in the first round, played in rain and wind gusting up to 23 mph. He birdied No. 18 to gain a stroke lead over Stewart and Fred Couples.
Tway was at 71, while host Jack Nicklaus matched par and defending champion Curtis Strange bogeyed the first four holes en route to a 78. Zoeller threatened to run away and hide in the second round, leaping ahead by five strokes with a six-under par 66 for 135. He nailed nine birdies, tying the Memorial record held by Tom Weiskopf, Dan Halldorson, Hal Sutton, Bobby Wadkins and Strange.
For the first two rounds, Fuzzy had 15 birdies, including seven on Muirfield's four par-5' s. Tway and former champion Ray Floyd trailed at 140, along with Calcavecchia, who birdied 4-5-6-7-8 and hung a putt on the lip at No. 9, Nicklaus needed a 5-foot putt on No. 18 to make the 150 cut score. Strange rebounded with a 69 (147), but the big turnaround belonged to Jim Hallet: 81-69. Zoeller ended the third round with chip-in fireworks of his own. His 6-iron approach on No. 18 landed on the green, but spun back off and rolled 10 yards into the fairway. His wedge from 45 feet cleared a bunker, bounced twice and rolled into the cup, providing him with a one-stroke lead (207-208) over Tway. Lietzke and Couples stayed with-in striking distance at 212 and Floyd and Calcavecchia were at 213.
The Zoeller-Tway duel actually started on Saturday . Tway's two birdies in the first seven holes brought him to within three and he pulled even on No. 8 when Zoeller had a sand disaster. Fuzzy's tee shot on the 189 yard hole nestled against the back lip of the left bunker, forcing him to wedge to another part of the bunker rather than go for the green.
"I have never had a shot like that," he decided. He blasted out to within four feet of the cup and missed the putt for double bogey (he went bunker to bunker for a bogey at No. 8 on Sunday). Tway rolled in a 15-foot putt for a deuce and a tie, then jumped one ahead with a 10-foot birdie on No. 14. Zoeller pulled even with a birdie on No. 15 and was back on top after the chip-in. Tway's string of bogey-less holes ended at 51 when he three-putted No. 2 in the final round. The central Ohio area's third-wettest spring since 1888 created problems for the 1989 Tournament, played two weeks earlier than the previous 13 Memorials.
The Muirfield course held up amazingly - probably better than almost any other venue - but rains Thursday and Friday, accompanied by unusually cold temperatures, caused TOUR officials to allow players to clean and place in the fairways for the final two rounds.
View 1988 Recap