1996 Recap
Dates: May 30 - June 2, 1996
Purse: $1,800,000
Par: 36-36=72
Yardage: 7,118 yards

View Scoreboard
---
Leaders
First Round – Steve Lowery shot five-under-par 67 to lead Larry Mize, Wayne Westner and Payne Stewart by one stroke. Second Round – John Huston, after a course-record 61, was at nine-under-par 135, two strokes ahead of Ernie Els. Third Round – Tom Watson, at 12-under-par 204, led Els by two strokes.
---
Notes
Cut Notes: A total of 78 golfers at three-over-par 147 or better
Missed Cut: Billy Andrade (74-77-MC), Ian Baker-Finch (78-79-MC), Andy Bean (77-71-MC), Guy Boros (79-74-MC), Brandel Chamblee (76-76-MC), Lennie Clemments (78-74-MC), Todd Demsey (75-74-MC), Jim Gallagher, Jr. (78-70-MC), Robert Gamez (81-76-MC), Paul Goydos (71-77-MC), John Harris (74-77-MC), Peter Jacobsen (72-76-MC), Lee Janzen (76-76-MC), Per-Ulrik Johansson (78-76-MC), Steve Jones (71-77-MC), Bruce Lietzke (72-77-MC), Roger Maltbie (76-75-MC), Doug Martin (78-73-MC), Billy Mayfair (75-76-MC), Gil Morgan (74-75-MC), Jack Nicklaus (77-75-MC), Greg Norman (73-76-MC), Corey Pavin (75-73-MC), Don Pooley (77-76-MC), Tom Scherrer (80-79-MC), Jeff Sluman (73-75-MC), Kirk Triplett (75-77-MC), Omar Uresti ( 76-73-MC), Scott Verplank (73-76-MC), D.A. Weibring (75-73-MC), Mark Wiebe (78-73-MC), Patrick Burke (75-WD).
Weather: After heavy rain early in the week, sunny and cool Thursday. Warmer Friday and Saturday. Rain, sometimes heavy, Sunday.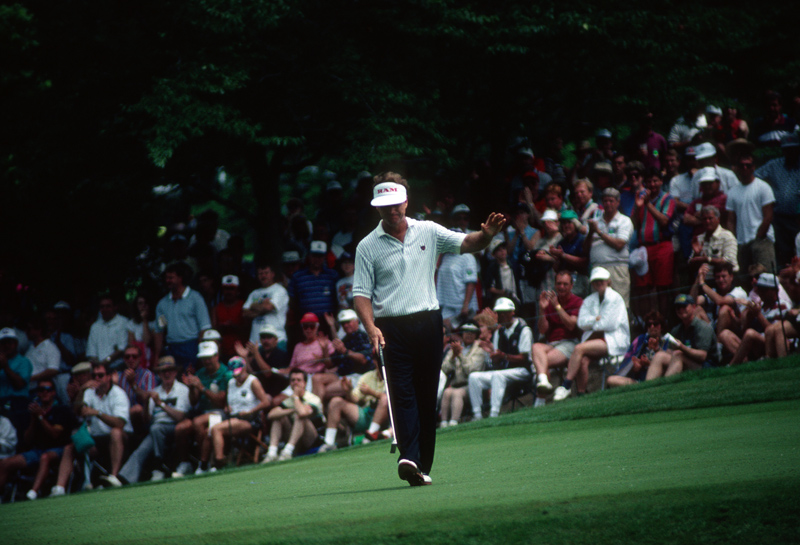 Tom Watson Wins the 1996 Memorial Tournament
It was quite a sound that enveloped the 72nd hole of the 1996 Memorial Tournament. As much as it was unanimous approval from a huge crowd cheering on an expectant champion, it was applause with feeling. Yelps of pure joy. And at the same time it was a gesture of gratitude, as if the entire gallery was one in saying, "Thank you Tom Watson, for these goose bumps. And thank you for this lump in my throat and this pit in my stomach."
In return, Watson nearly dented the back of the cup with his twelve foot birdie putt on the 18th hole Sunday to exclamate his first PGA TOUR victory in nearly nine years. It had been a long time coming.
It is because of both his past and present that Watson is such a popular champion. From 1977 through 1980, Watson won twenty-two times on TOUR (including the 1979 Memorial) and was as dominant a force as there has ever been in professional golf. All told, he has won eight Major championships: five British Opens (1975-77-80-82-83); two Masters (1977-81); and the memorable 1982 U.S. Open over Jack Nicklaus at Pebble Beach. But Watson's game has gradually turned itself upside-down in the past decade. He used to win tournaments with a bold, yet silky smooth putting stroke and deft short game. Over the years the putting stroke has painfully eroded, but through his persistence, a trait which has so endeared him to the golfing public, he has evolved into one of the most consistent ball strikers from tee to green in the game.
Tantalizingly close to being perhaps better than ever, Watson has never stopped fighting his putting woes. He has also never stopped being a gentleman. So considering the stature of Watson's past and the grace and dignity with which he has carried himself in chasing a return to those glory years, it is no wonder we root for him still, and so thoroughly enjoyed rejoicing with him again in victory.
"God it feels good. It feels so good to win again," said the 46 year old after shooting a closing round 70 for a 14-under-par total of 274, two better than David Duval. "To be here, the last person off the golf course, the last putt in, winning a golf tournament today - I missed it."
Perhaps Jack Nicklaus, who greeted Watson with an emotional embrace as he walked off the 18th green Sunday, offered the best summation of this Memorial. "I believe it was the most thrilling win of any I've seen or accomplished myself in 10 years, from when I won the Masters in '86 until now," weighed in the tournament host.
"It means an awful lot for the game of golf."
Watson's 33rd career TOUR victory began innocently enough with a first round two under-par 70, leaving him three strokes behind leader Steve Lowery (67). Only seven players in the field of 110 broke 70, as soft fairways and a pesky wind lengthened the course and a dense, heavy rough punished wayward shots. By the time Watson completed his second round in four-under par 68, his 70-68 (138) total left him in a tie for second just one shot behind early clubhouse leader Ernie Els (70-67=137). But conditions were gradually changing as Friday morning turned into Friday afternoon. The northerly winds that had stretched out the golf course on Thursday were now laying down a bit and, perhaps more importantly, swinging around to come from the south, a more scoring-friendly direction. Watson had a premonition about the changing environment.
"I think you will see some pretty good scores now today," he said after his round.
Enter John Huston. In perhaps the best round of the year on the PGA TOUR, Huston blew past the field in scorching Muirfield Village Golf Club to the tune of a course record 11-under par 61. Teamed with his first round 74, Huston's 135 total left him two strokes ahead of Els, three ahead of Watson.
"I was in a zone," said Huston, who captivated Friday afternoon's large crowd in his pursuit of the elusive 59. "It's kind of like playing with the banks money in Vegas. You just don't feel like you can lose."
Although Huston followed with a solid third round one-under-par 71, Saturday belonged to Watson. Powered by a six-under par 66, his best score in 19 years at the Memorial, Watson charged out of a tightly packed leaderboard to grab a one stroke lead over Els heading into Sunday's final round. This was the day that Watson truly turned back the clock. He reached both the par-five 5th and the par-five 11th in two and two-putted for birdie. He poured in a 20-foot putt for birdie at the eighth. He added a 12-footer for birdie at the 14th and followed that with another two putt birdie on the par-five 15th that tied him for the lead. He was, however, not quite finished. On 17 Watson was literally in deep trouble, his approach shot finding the difficult bunker guarding the front of the green. "I'd say it was probably 30 feet in horizontal distance and about 9 feet in vertical distance," he later would recall about the sand wedge he proceeded to hole for birdie. The huge gallery that had been following Watson all day erupted. Although it was only Saturday, you looked at Watson standing in that bunker, both arms extended skyward, fists clenched, that familiar smile once again glowing across his face, and you knew. You just knew. . . well, at least you hoped. Watson had the lead alone going into Sunday's final round. After the first hole on Sunday, you may have started to wonder. Three putts for Watson. Bogey. Co-leader now with Els. Watson seemed to regain his composure with a steady par on the second hole, and he drilled what may have been, mentally, his most important putt of the week on the third hole, a "confidence-boosting" 4-footer for par. Watson went on to birdie No. 5 for the fourth time of the week and, after draining a 12-footer for birdie at No. 10, he set his mind squarely on winning. "When I made the birdie at ten I said, 'all right, these fellows are going to have to come and get me now,'" he said later. At that point, with Els hip-deep in the process of bogeying himself out of contention with a three-over-par 75, Watson's lead was three over his nearest competitor, John Huston. Propelled by another birdie at the 13th, this one capped by a winding 25-foot putt, and the 14th hole that he passed through without incidence, Watson was now armed with a four shot lead with four holes to play. Meanwhile, playing two groups ahead, Duval was beginning to severely rock Watson's victory cruise. Seven strokes back after the 13th hole on Sunday, Duval played the last five holes in five under par. The 490-yard par-five 15th was the swing hole. It was there that Duval had laced his second shot, a three wood, 40 feet left of the pin and dropped the putt for eagle. Watson soon turned it into a three-shot swing by playing one of his few loose holes of the week. He missed his first fairway of the day there en route to a bogey 6. Watson by two over Duval. Fast forward to Watson on the 17th green. As he was cleaning up a nifty little up-and-down from the back fringe for par, Duval was in the process of signing a tidy 67 on his scorecard, capped by an 8-foot birdie putt at No. 18. Watson now by one. Knowing par on the last hole wins the tournament must have given Watson a charge. He laced a near perfect drive down the right side of the fairway, leaving himself a 6-iron and the proper angle into the green. Watson sailed his approach right on top of the flag and watched as it came to rest 12 feet above the cup. Twelve feet from victory, Watson marched up the fairway toward the green and a feeling of familiarity, almost a feeling of justice, prevailed. Had it really been nine years? Although he tried to leave his birdie putt on the 18th green short, it was moving dangerously quick as it slid down the slope and disappeared into the hole. "It felt like winning all over again for the very first time," he said. He acted like it too, taking a few giant steps and flinging his hat into the air in celebration. "Nine years has been a long time," he said. "Half of the time I really wasn't playing very well, but the other half I was playing pretty well and I just..." Watson's voice trailed off, he shrugged his shoulders, opened up his palms and smiled. It really did not matter anymore.
View 1995 Recap