2003 Recap
Dates: May 26 - June 1, 2003
Purse: $5,000,000
Par: 36-36=72
Yardage: 7,265

View Scoreboard
---
Leaders
First Round – Charles Howell III shot an 8-under-par 64 and led Kenny Perry by one and John Huston by two. Seven players were three back. Second Round – Perry moved to 11-under-par and led Retief Goosen and Lee Janzen by one. Vijay Singh and Mike McRoy were three behind. Third Round – Perry at 13-under-par led Janzen by two strokes. Goosen, Singh and Jose Maria Olazabal were three back.
---
Notes
Cut Notes: 70 players at 2-over par from a field of 104 professionals
Missed Cut: Briny Baird (77-70-MC), Sergio Garcia (73-74-MC), Scott McCarron (74-73-MC), Craig Parry (75-72-MC), Rod Pampling (74-73-MC), Tom Lehman (74-73-MC), Scott Verplank (69-78-MC), Trevor Immelman (72-75-MC), Scott Laycock (74-73-MC), Stephen Ames (75-73-MC), Joel Edwards (72-76-MC), Paul Azinger (69-79-MC), Pat Perez (74-74-MC), Jack Nicklaus (76-72-MC), Tom Pernice, Jr. (75-73-MC), Andy Miller (74-74-MC), Jerry Pate (76-74-MC), Geoff Ogilvy (78-72-MC), Ben Curtis (74-76-MC), David Smail (74-76-MC), Matt Kuchar (76-75-MC), Fred Funk (75-76-MC), Harrison Frazar (74-77-MC), Carlos Franco (78-74-MC), Notah Begay III (71-82-MC), Steve Flesch (76-77-MC), Hank Kuehne (77-76-MC), Matt Gogel (75-79-MC), Bernhard Langer (79-75-MC), Steve Allan (77-77-MC), Mark Brooks (76-80-MC), Alejandro Larrazabal (88-77-MC), Brenden Pappas (W/D), Rocco Mediate (W/D), Robert Allenby (W/D), Craig Stadler (W/D).
Weather: Thursday, partly sunny with temperatures climbing into the low 70s with later afternoon showers. Winds were out of the northwest 10 mph. Friday, warm and mostly sunny with a high of 75. It became cooler and overcast in the afternoon. Saturday morning started out warm and rainy. Play was delayed 46 minutes from 11:14 a.m. to 12 p.m. In the afternoon it was windy, overcast and cooler, with lows in the mid-50s and winds 20-30 mph from the northwest. Sunday was clear, windy and cool with a high of 65 and winds 15-20 mph out of the northwest.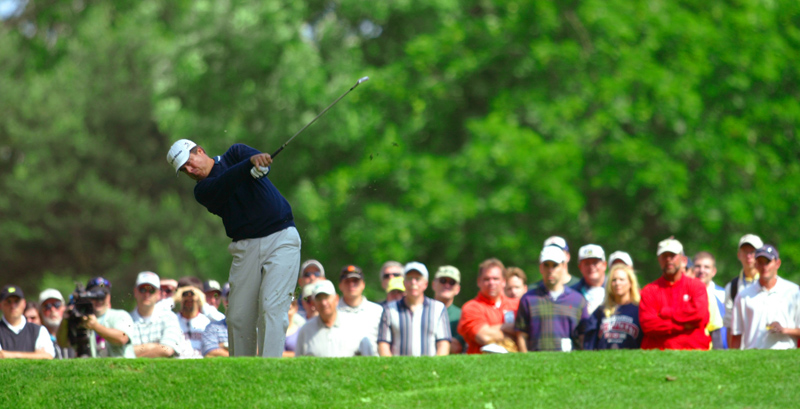 Kenny Perry Wins the 2003 Memorial Tournament
On Sunday at the Memorial Tournament, Kenny Perry dashed out to a big lead with an impeccable front nine, and that allowed him to survive a sputtering finish and capture his second PGA TOUR victory in as many weeks. Despite bogeys on five of the last six holes, Perry shot a most uneven par-72 on a cool and breezy day at Muirfield Village Golf Club and held off Lee Janzen by two strokes to claim his sixth PGA TOUR title.
Perry, who won by six strokes the previous week at the Bank of America Colonial, enjoyed a similar cushion with eight holes to play at Muirfield Village, but the tension and pressure of the last two weeks caught up to him. After making just two bogeys through 66 holes, Perry nearly ran out of gas.
"The tank was empty, there was no doubt," a beaming and relieved Perry said. "I'm mentally and physically exhausted. The two weeks have been exhausting. I never experienced the press and the people pulling for me, all of the phone calls."
Perry, 42, of Franklin, Ky., had never won twice in a season, let alone back-to-back, the first player to accomplish that on TOUR since Ernie Els opened the season with two straight. His 13-under-par 275 total was worth $900,000 and lifted him to No. 5 on the PGA TOUR money list with a career-best $2,551,171.
He joined tournament host and founder Jack Nicklaus, Tom Watson, Greg Norman, Hale Irwin and Tiger Woods as multiple Memorial Tournament champions.
It was all made possible by an outward 32 that stretched his two-stroke lead over Janzen to five at the turn.
"That front nine was probably the best nine I played in a long time," Perry said. "I shot some good rounds last week, but to shoot 32 on that nine through those winds and conditions really set up this victory for me."
Janzen, winless since his second U.S. Open title at The Olympic Club in 1998, could do no better than 72 himself despite holing out from a bunker for the third time in two days.
Masters champion Mike Weir was third after shooting the day's low round, a 65. Woods equaled that figure to tie for fourth with Vijay Singh. Singh closed with a 71 and has now finished joint second, first and joint fourth in his last three starts.
But even that streak can't match Perry, who shot a tournament record 19-under par in winning at Colonial Country Club the previous week, then took apart revamped Muirfield Village until his late lapse. Nevertheless, Perry became the sixth player this year with multiple victories, and the oldest player since Irwin (45) in 1990 to win consecutive TOUR events. Asked how he can explain his two-week stretch of nirvana, Perry responded, "I don't think you can. I think it was just my time."
And a special time, at that.
"I won on two terrific golf courses, the two best courses we play on TOUR," he said.
View 2002 Recap