2008 Recap
Dates: May 26 - June 1
Purse: $6,000,000
Par: 36-36=72
Yardage: 7,366 yards

View Scoreboard
---
Leaders
FIRST ROUND
Mathew Goggin 65 (-7)
Jerry Kelly 66 (-6)
Kenny Perry 66 (-6)
Rod Pampling 67 (-5)
Brett Quigley 67 (-5)
SECOND ROUND
Mathew Goggin 137 (-7)
Kenny Perry 137 (-7)
Jerry Kelly 138 (-6)
Luke Donald 139 (-5)
Matt Kuchar 140 (-4)
Steve Lowery 140 (-4)
Geoff Ogilvy 140 (-4)
Nick O'Hern 140 (-4)
THIRD ROUND
Mathew Goggin 208 (-8)
Jerry Kelly 211 (-5)
Matt Kuchar 211 (-5)
Kenny Perry 211 (-5)
Justin Rose 211 (-5)
Mike Weir 211 (-5)

---
Notes
Cut Notes: 76 players at 6-over-par 150 from a field of 119 professionals and one amateur.
Missed Cut: Jeff Overton (73-78-MC), Lucas Glover (74-77-MC), Brian Davis (70-81-MC), Brandt Snedeker (76-75-MC), Fredrik Jacobson (79-72-MC), Ernie Els (73-78-MC), Jason Gore (76-76-MC), Cameron Beckman (76-76-MC), Jonathan Byrd (76-76-MC), Greg Kraft (71-81-MC), Steve Marino (76-76-MC), Hunter Mahan (76-76-MC), Boo Weekley (76-77-MC), Y.E. Yang (77-76-MC), J.J. Henry (76-77-MC), Charles Howell III (74-80-MC), Mark Brooks (80-74-MC), Frank Lickliter II (77-77-MC), Jason Day (73-82-MC), Matt Jones (77-79-MC), Bubba Watson (72-84-MC), Robert Garrigus (80-76-MC), Billy Mayfair (77-79-MC), Mark Calcavecchia (72-84-MC), Chad Campbell (76-81-MC), Billy Andrade (72-85-MC), Steve Flesch (76-81-MC), Troy Matteson (76-81-MC), John Merrick (80-77-MC), Nicholas Thompson (75-83-MC), Mark Hensby (74-84-MC), David Duval (80-78-MC), Paul Azinger (80-78-MC), Drew Weaver (79-80-MC), Graeme Storm (79-81-MC), Charles Warren (84-76-MC), Bob Sowards (78-82-MC), James Kingston (76-85-MC), Marco Dawson (81-80-MC), James Driscoll (80-83-MC), Justin Bolli (79-85-MC), Larry Mize (77-88-MC), Briny Baird (77-0-MC), Brian Bateman (78-0-MC)
Weather: Thursday: Sunny and cool with morning lows in the 50s. Afternoon temperatures rose to the mid 70s, light winds to 5 mph. Friday: Partly cloudy with continued mild temperatures reaching 88. variable winds 10-15 mph. Saturday: Due to the threat of thunderstorms, third-round tee-times were moved up to 10:45 a.m.- 12:45 p.m. in threesomes off split tees. Partly cloudy with mild temperatures in the mid-70s. SW winds 15-20 mph with gusts to 30 mph. Play was suspended at 1:39 p.m. due to a dangerous situation. Play resumed at 4:04 p.m. and the completion of the third-round came at 8:08 p.m. Sunday: Partly cloudy and cool in the morning with temperatures in the mid 60s, W winds 7-12 mph. Sunny in the afternoon with temperatures in the mid 70s.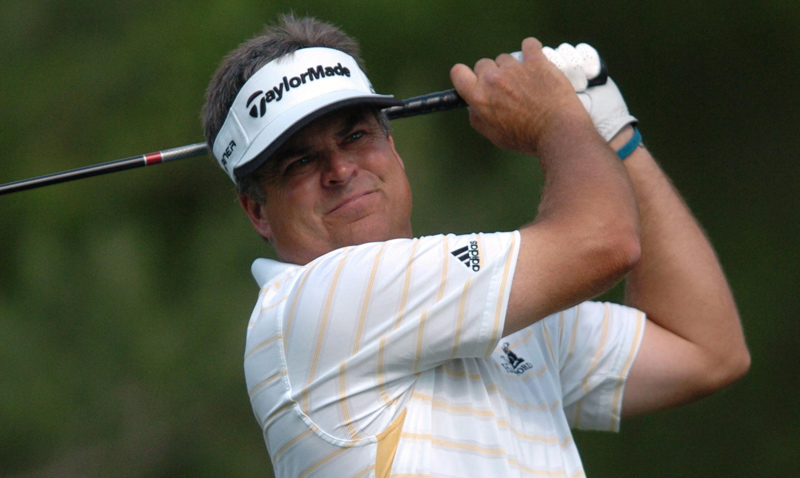 Kenny Perry Wins the 2008 Memorial Tournament
In route to his tenth career PGA TOUR victory, Kenny Perry entered the final round of the 2008 Memorial Tournament three strokes out of the lead. Perry played what he called perhaps the best round of his career, a near-perfect, 3-under-par 69 in unpredictable wind to join Tiger Woods as the only three-time winners of the Memorial.
With the victory Perry also became the oldest winner in Memorial Tournament history at age 47. His 8-under-par total of 280 was two shots better than Jerry Kelly, Justin Rose, Mathew Goggin and Mike Weir, and the highest winning score at Muirfield Village Golf Club since 1985, when Hale Irwin won with a 7-under-par 281.
Mathew Goggin held the lead through the first three rounds but faltered with a 2-over-par 74 on Sunday to slide into a tie for second.
Perry took the lead for good when the wind held Weir's approach shot on No. 10 short of the green and he bogeyed. With par saves out of the sand at No. 12 and the back rough at No. 14 Perry's birdie at No. 15 put him three strokes ahead of the field with three holes to play. His only slip on the day came in the form of a bogey at No. 17, but his closest competitors could not close the two-shot gap and Perry's par on No. 18 sealed the win.
The winner's check of $1,080,000 makes Perry the all-time earnings leader for the Memorial Tournament with $3,091,542.84, moving him past Tiger Woods with $2,763,148.
View 2007 Recap