1979 Recap
Dates: May 24-27, 1979
Purse: $329,885
Par: 36-36=72
Yardage: 7,101 yards

View Scoreboard
---
Leaders
First Round – Lanny Wadkins had a three-under 69 and led Mike McCullough by one. Second Round – Tom Watson's 69 gave him a two-under 142 and a four-stroke lead over Jack Nicklaus, Tom Kite and Peter Jacobsen. Third Round – Watson held his four-stroke lead with a 214, while Miller Barber was at 218.
---
Notes
Cut Notes: 75 players at 13-over 157.
Missed Cut: Tom Aaron (84-82-MC), Andy Bean (76-82-MC), Mike Brannan (77-83-MC), Bob Byman (81-77-MC), Bill Casper (82-76-MC), Charles Coody (77-83-MC), Ben Crenshaw (76-82-MC), Dave Eichelberger (77-83-MC), Marty Fleckman (82-83-MC), John Fought (80-80-MC), Rod Funseth (81-86-MC), Mark Hayes (76-83-MC), Roger Maltbie (73-92-MC), Mark McCumber (84-83-MC), Artie McNickle (76-82-MC), Steve Melnyk (80-80-MC), Jack Newton (77-85-MC), Jerry Pate (73-85-MC), Calvin Peete (79-79-MC), Don Pooley (74-84-MC), Mike Reid (79-85 -MC), Bob Shearer (86-WD), Jim Simons (80-79-MC), Tim Simpson (79-82-MC), Mike Sullivan (74-85-MC), Jim Thorpe (82-DQ), Lee Trevino (74-81 -WD), Bob Wadkins (77-85-MC) D. A. Weibring (79-82-MC), Y. Yamamoto (82-76 -MC), Kermit Zarley (80-81-MC).
Weather: Thursday - Cool, windy day and some showers early in the day. Friday - Very cool, windy and rain most of the day. Saturday - Mostly cloudy, somewhat warmer and still windy. Sunday - Rain forced delay of start until 12:54 p.m., and both tees were used.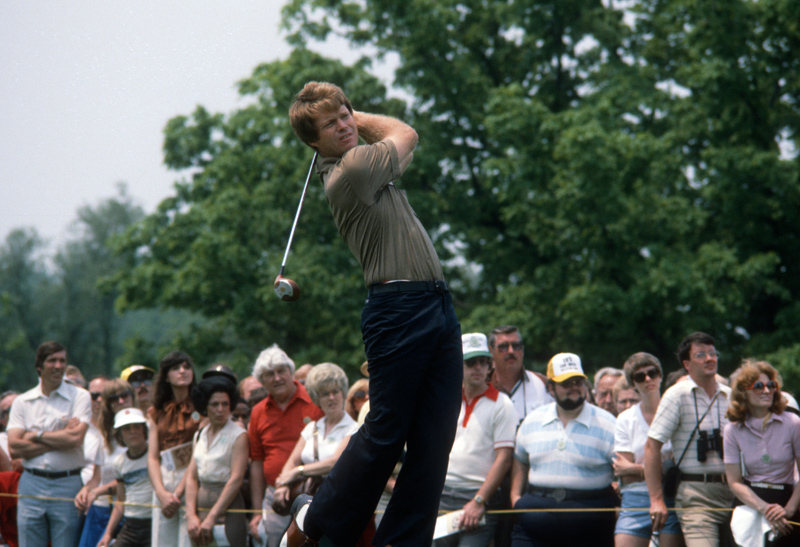 Tom Watson Wins the 1979 Memorial Tournament
It was the kind of day Memorial Tournament officials wanted to forget quickly and completely. But eventual champion Tom Watson lent it an epochal quality. The weather on May 25, 1979 suggested an unwelcome prank: That some perverse force had transplanted the rain and cold and bluster from the original Muirfield in Scotland to Jack Nicklaus' namesake creation in Dublin, Ohio. And without the scenic Firth of Forth.
Steady rain from leaden skies, accompanied by winds gusting up to 30 mph and wind-chill factor that plummeted to 13 degrees, tormented Muirfield Village all through the second round. Bruce Lietzke, in his press interview afterward, made a special point of saluting the marshals, scoreboard and leader-board keepers and others for service beyond the call of duty in not abandoning their posts.
Lanny Wadkins had carved a 69 to lead the first round, played in drizzly, chilly weather. But he needed 10 strokes more on Friday (79) and that was the general trend. Forty-two of the 105 players who started failed to break 80 and one skidded into the 90's. Watson, dressed in a knit wool ski cap and sweater under a rain suit, seemed otherwise bewilderingly - at least to his rivals - unaware of the elements. He managed birdies at No. 5 with a 30-foot putt, at No. 8 with a 10-footer and No. 18 with an 8-foot-er. He missed only two greens, and never made a bogey. That 3-under par 69 amazed every one more than the fact he led the field by four strokes at 36 holes.
"It wasn't all that bad out there," Watson told the press later evoking laughter. I practice in Kansas City in this kind of weather all winter. I think my feet are frozen, but I kept my hands in my pockets and kept 'em warm. "I just didn't make many mistakes," he added-without media laughter. "I got off to a good start and held on for dear life."
At the time, Watson said the 69 was "one of the best, most satisfying rounds I've ever played." Discussing it later, he decided it was "one of the top three I ever played." But he also agreed it just might have been his best-ever. As time passed, the feat became more and more a marvel to pros and hardy souls who sloshed around Muirfield that day (and even to those who fled the weather - or didn't brave it at all).
Watson had more trouble in the first round. He had three bogeys in the first five holes and admitted "it looked like I was going to shoot 85." He steadied for a 73, but four back of Wadkins, who had birdied four of the first seven holes and holed a bunker shot on No. 17. Mike McCullough trailed at 70, with Ed Sneed and Mac McClendon at 71. Tom Kite said after the second round, "there was no way you could go out there and do good," but he eagled No. 14 and matched par 72 for a 146, tying with Nicklaus (73-73) and Peter Jacobsen (72-74) behind Watson. Miller Barber moved up with a 32 back nine for 74-147.
Commenting on the annoying weather, Nicklaus said he wore gloves and "I don't think I ever wore gloves in a tournament. By the time I reached 18, I had a hard time feeling the golf club." He must have had some touch, because he birdied the last two holes.
With the rain gone, Watson "salvaged a good round" on Saturday, maintaining his lead with a 72-214. He parked a 4-iron 18 inches from the cup for birdie on No. 17. Barber had consecutive bogeys on Nos. 7 and 8, but sprung another hot streak with birdies on No. 11, 13, 15, and 17. He might have caught Watson but he "got a little cute" with a 6-iron second on No. 18 and shanked it in the rough in front of the big scoreboard to the right of the green. He ended up double bogey and 71-218. He said he was all pumped up because he hit his approach inside Watson on No. 17, about four inches from the cup. But Barber shrugged philosophically. "If I hit it perfect every time, golf wouldn't be any fun."
Nicklaus charged up a huge gallery with three birdies in the first five holes, chopping Watson's lead to one, but four bogeys in five holes (9, 10, 12, 13) skidded him to an eventual 220 tie with Kite and Lon Hinkle. Craig Stadler, who had set a new course record 64 in the Pro-Am, tied the tournament single-round mark with a 67 - best of the first three rounds and matched only by Hale Irwin in the final round.
Watson marched steadily to the title and $54,000 on Sunday. He posted irdies on Nos. 5, 6, and 11 to sky his lead to six strokes, but encountered trouble on Nos. 12 and 15. He made a 15-foot par-saving putt on No. 16 and finished with a 71 for 285 and his fourth PGA win of the year. Watson, never really threatened in the windup, decided Friday's 69 was "probably the round that won it for me." Nobody argued. Barber cut Watson's lead with a birdie on No. 1, but bogey lapses on No. 4, 6 and 8 and a double on No. 17 were too much to overcome. He did birdie No. 18 to wind up second at 288, three better than Bob Gilder, who played the final 36 in 68-69. Kite and Wadkins were next at 292 and Ed Sneed's closing 69 netted him a share at 293.
The weather improved the last two days, although rain delayed the start until noon on Sunday, necessitating tee-off on both nines. But sun finally broke through - and stayed. Tim Simpson, a last-minute addition to the field, provided a historic note for Memorial No. 4. His hole-in-one on the 204 yard 4th hole in the opening round was the first official (tournament) ace at Muirfield Village.
View 1978 Recap