1987 Recap
Dates: May 28-31,1987
Purse: $912,000
Par: 36-36=72
Yardage: 7,104 yards

View Scoreboard
---
Leaders
First Round – Curt Byrum shot an eight-under-par 64 to tie the tournament record and take a two-stroke lead over Joey Sindelar. Second Round – Scott Hoch added a 64 to his opening round of 67 for a tournament record total of 13-under-par 131. He led by four strokes over Curt Byrum. Third Round – Hoch shot a 5-under-par 67 for a tournament record total of 18-under-par 198 and he led by 4 strokes over Don Pooley.
---
Notes
Cut Notes: 77 players at two-over par 146.
Missed Cut: Fulton Allem (75-72-MC), Phil Blackmar (82-77-MC), Gordon Brand (74-76-MC), Danny Edwards (77-74-MC), Steve Elkington (79-72-MC), Brad Fabel (76-77-MC), Rick Fehr (79-75-MC), Ed Fiori (73-77-MC), Ray Floyd (76-74-MC), Dan Halldorson (77-75-MC), Jim Hallet (76-74-MC), Mike Hulbert (79-68-MC), Peter Jacobsen (74-75-MC), Mats Lanner (78-80-MC), Rocco Mediate (74-73-MC), Andy North (75-73-MC), Aki Ohmachi (75-77-MC) Mark O`Meara (78-72-MC), Corey Pavin (79-73-MC), Kenny Perry (75-72-MC), Mike Reid (70-77-MC), Bill Rogers (74-73-MC), Tony Sills (75-72-MC), Jeff Sluman (76-76-MC), Mike Sullivan (80-73-MC), Bob Tway (73-76-MC), Howard Twitty (75-77-MC), Scott Verplank (73-74-MC), Mark Wiebe (74-74-MC), Fuzzy Zoeller (75-73-MC).
Weather: Thursday, mostly sunny. Friday, cloudy. Saturday, heavy rain forced suspension of play at 1:20 p.m. and it was called for day at 4:45 p.m. with 59 players still on course. Round completed early Sunday morning and then fourth round played in afternoon under cloudy skies.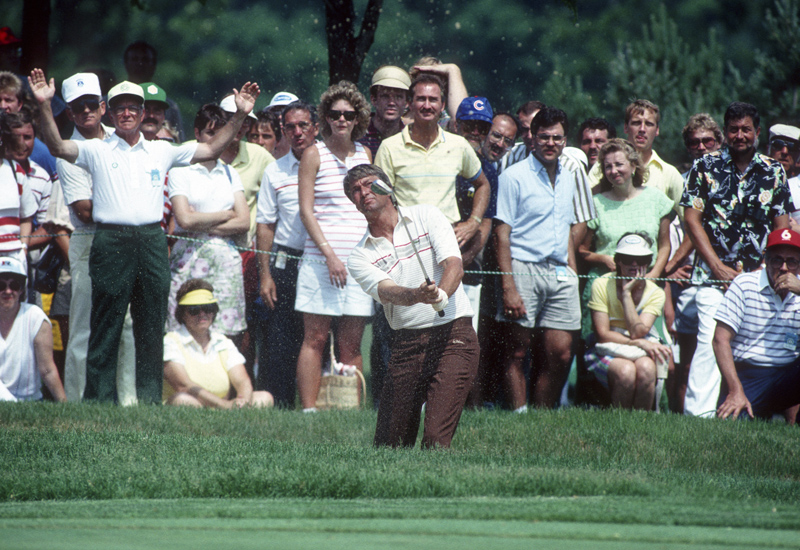 Don Pooley Wins the 1987 Memorial Tournament
By Saturday evening, it appeared that last year's assault on Muirfield was only an opening barrage, not the main attack. During the first three rounds of the 12th Memorial Tournament, scoring records fell like autumn leaves. Jack Nicklaus described his course as "defenseless" and "helpless."
As was the case in 1986, perfect scoring conditions prevailed, most notably the absence of wind. The pros took full advantage. On each of the first three days the field's scoring average and number of sub-par rounds eclipsed 1986 records. Scott Hoch simply exploded previous marks for 36 holes (131 to Roger Maltbie's 134 in 1982) and 54 holes (198 to Hal Sutton's 203 in 1986); and three players - Hoch, Sutton, and first-round leader Curt Byrum - tied Mark McCumber's single-round tournament and course record of 64.
Finally, on Sunday, the long-awaited winds returned and Muirfield regained some of its dignity. Though Fred Couples joined the 64 crowd, the stroke average for the 77 survivors of a record-tying 146 cut edged .333 over the 1986 low. Early in the final round, Hoch looked like a run-away winner. He'd gone 55 holes without a bogey, was 18 under par, and held a 4-stroke lead over Don Pooley. But he missed the green on the 2nd hole and chipped poorly for his first bogey of the tournament, was bunkered on three and four for bogeys, and suddenly the usual Sunday scramble was on.
Pooley dropped a birdie putt on four and drew even and admitted, "I was surprised when I made it (the deficit) up so quickly." He dropped back with a bogey on the sixth, but holed a 20-foot birdie on seven to get back even with Hoch, and he led or shared the lead thereafter.
Hoch, David Frost, Denis Watson, Chip Beck and Byrum all kept the pressure on down the stretch, but each faltered, and Pooley won going away with a 15-foot birdie off the fringe at 17 and a gallery pleasing 8-footer on a 70 and a total of 272. Byrum was second at 275, with Hoch, Watson and Beck third at 276.
Defending champion Sutton was at 278. Pooley's 16 under-par total was one over Sutton's Memorial record, and gave him his second title in a dozen years on the TOUR. He won the B.C. Open in 1980. "I believe the deep satisfaction I feel from winning the Memorial Tournament will last a long time," said the new champion. Both Pooley and Byrum noted the return of the Muirfield winds.
"When the wind swirls like it did today, it's much tougher," said Pooley and Byrum added, of his bogey streak, "I hit the shots exactly the way I wanted, but the wind didn't affect them the way I thought it would."
Rain abbreviated the Pro-Am on Tuesday and a full fledged thunderstorm ended play on Saturday, forcing the leaders to finish their third rounds on Sunday morning before teeing off for the final 18.
View 1986 Recap