1990 Recap
Dates: May 10-13, 1990
Purse: $1,000,000
Par: 36-36=72
Yardage: 7,106 yards

View Scoreboard
---
Leaders
First Round – Fred Couples shot a 3-under par 69 and led by four strokes over seven players (Corey Pavin, Hale Irwin, Lanny Wadkins, Greg Norman, Don Pooley, Peter Persons, and Jay Delsing). Second Round – Couples added a 74 for a l-under-par l43 and led by one stroke over Pooley. Delsing was third at l-over-par 216. Third Round – Norman (69) moved in front at even par 216. Payne Stewart was at 217. Couples, after double bogey at the last, along with Pooley, Brad Faxon and Mark Brooks, were at 218.
---
Notes
Cut Notes: 73 players from a field of 106 at 13-over-par 157
Missed Cut: Jim Carter (79-83-MC), Clark Dennis (87-79-MC), David Edwards (82-76-MC), David Graham (80-80-MC), Donnie Hammond (87-75-MC), John Huston (78-80-MC), Mark James (83-79-MC), Steve Jones (81-78-MC), Sandy Lyle (79-80-MC), Rocco Mediate (82-84-MC), Chris Patton (84-81-MC), Tom Purtzer (85-74-MC), Loren Roberts (84-81-MC), Clarence Rose (84-74-MC), Jim Simons (80-86-MC), Joey Sindelar (76-82-MC), Mike Sullivan (83-76-MC), Bob Tway (75-83-MC), Stan Utley (84-78-MC), Bobby Wadkins (78-84- MC), Wayne Westner (83-82-MC), D.A.Weibring (84-76-MC), Willie Wood (84-79-MC), Robert Wrenn (83-81-MC), Fuzzy Zoeller (77-81-MC), Mark Calcavecchia (88-WD), Ken Green (82-WD), Larry Nelson (82-WD), Gene Sauers (83-WD), Tim Simpson (85-WD), Jeff Sluman (85-WD), Mark McCumber (88-DQ).
Weather: Thursday, winds gusting to 40 mph and temperatures close to 50 degrees. Friday, warmer with less wind, 8-to-10 mph with some stronger gusts. Saturday, rain and cold. Play suspended 1:20 p.m. and resumed at 3:35 p.m. Sunday, heavy morning rain forced suspension of start of play until 11:15 a.m.using both tees. Rescheduled for 1:15 p.m. start and then cancelled at 1:10 p.m.; called official tournament after 54 holes.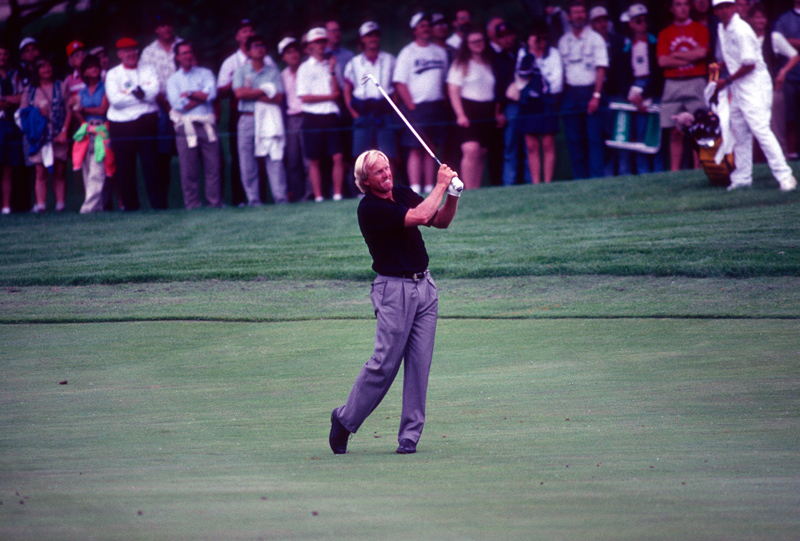 Greg Norman Wins the 1990 Memorial Tournament
The other shoe finally dropped. The Memorial Tournament had been tormented by more than its share of unfavorable weather, but in the first 14 years, it had experienced only one postponement, the final round in 1977. It was completed Monday morning.
Thirteen years later, it suffered its first cancellation of a fourth round, unfortunately reducing the 1990 competition to 54 holes. Ten of Muirfield's 18 holes were judged unplayable at approximately 1 p.m. Sunday, after host Jack Nicklaus and PGA TOUR Executive Director of Tournament Administration David Eger inspected the course.
Greg Norman thus became the automatic champion of the 15th Memorial Tournament that had, Nicklaus suggested, a different kind of "sudden death" finish. Greg was on the practice tee when Payne Stewart came by with word of cancellation. "I was hitting my 3-iron, getting ready to play," he explained. Norman had finished the third round with a one stroke lead over Stewart and obviously that's how they went into the record books: Norman with 73-74-69- 216, even par, to Stewart's 74-74-69-217.
Ironically, Norman was unaware that he had moved into first place in Saturday's third round until he heard it on the 11 o'clock television news. When the Australian "Shark" left Muirfield, Fred Couples appeared to have a "safe" lead. The $180,000 first place check elevated Norman to No. 1 on the PGA TOUR Money List at that point with $761,438 and represented his ninth win in the U.S. and 61st worldwide. Because he'd had likely victories snatched away by opponents' great strokes an incredible number of times, someone suggested that Lady Luck was evening the score in his favor.
"It's a good break," Greg agreed, of winning without teeing it up in the final round, "but I don't want to say this is one I got back, because I don't think it works that way. You can never make up for something that's gone."
Couples knew the wisdom of that last observation, even more acutely. He was the Memorial's hard luck guy. He produced one of the tournaments most remarkable feats in an opening round played in what Norman correctly termed "British Open weather." The temperature dipped into the mid-50's, with wind gusts 20 to 37 miles per hour, prompting Couples, Norman and others to don ski caps and heavy gear. Tournament veterans likened the conditions to "Ferocious Friday" in 1979. However, that earlier day retained its "worst" title because it included rain and a 13-degree wind chill factor as additional challenges.
Couples' round came close to duplicating the all-time classic fashioned by Tom Watson on that second day in '79. Each overcame the elements with a three-under par 69, but Watson carved out three birdies and 15 pars, while Couples' awesome card showed four birdies and a bogey. Watson's miracle round left him four strokes ahead of the field (after 36), Couples also lead by four (after l8), the only pro to better par. He ran down putts of 15 feet at Nos. 5 and 9 and a 10-footer at 13, before a misstep at 14. He evened that with a 20-foot birdie at 17. He hit wedges into greens on Muirfield's 10 par-four holes.
Norman, among seven players in second place at 73, claimed "the score Freddie shot is like a 62 on an average day." The field averaged 78.792, which broke the high-scoring record of 78.738 set on that 1979 Friday. Couples remained the only player among the 107 competitors to complete the second round under par, despite four bogeys in the last seven holes - the last two included. Even with a 74, he was at 143, a stroke apace 1987 Memorial Champion Don Pooley and four up on Norman.
"That 69 set me up for the week," he decided. The wind slowed to 13 mph and the temperature edged up into the 60's, but the field still found Muirfield a stubborn test, averaging 75.763. That was the third highest in 15 Memorials. "If I shoot another 74, I won't be out of it at all," Couples predicted.
He didn't shoot 74, although Pooley said "he was cruising" for the first 10 holes. He had held his lead at four strokes with a two under par 34 front nine. The struggle began with bogeys at Nos. 11, 14 and 16, and disaster struck at 18. Couples pulled his tee shot into the left rough and it evidently finished in the creek, because the ball was never found. "We looked for it five minutes," Pooley attested. Couples took a drop, landed short of the green in the rough, chipped strong and two-putted for double bogey six and 74-218, eventually good for a third place tie with Pooley, Brad Faxon and Brooks at 218 each.
Meanwhile, Norman, the TOUR leader in scoring average at 67.43, kicked his game into higher gear for a 69-216 and the lead. Stewart, trying for his third TOUR win in five weeks, matched Norman's card to grab second place at 69-217. Norman turned at par and made birdies on Nos. 11, 14 and 17 for what eventually would be the victory. He also birdied Nos. 1 and 5, but his save of the day came at No. 18, after his four iron second shot had buried in the face of the bunker.
"I went from a 5 to a 4 for the approach and I still came up short," he explained. "This is a very deceptive hole."
He blasted out to 10 feet and made the putt, confessing "I was very happy to walk away with a four there." It seemed important at the time, because it elevated him to the lead. But the par loomed larger and larger as the rain fell, starting times moved back and final round play grew tenuous through Sunday morning. Stewart even had that in mind during Saturday's round.
"I was trying to get up there because there was a possibility we wouldn't play Sunday," he explained after sinking two 15-foot putts, a 14 and a 6-footer for birdies. "I feel sorry for Freddie and what happened to him yesterday," said Norman after Sunday's cancellation and the traditional 18th green presentation cere-monies. "But that's just the way the cookie crumbles, I suppose."
PGA TOUR officials delayed as long as possible before canceling the final round because of the bad weather. Eger said that TOUR policy favored termination of play as of 54 holes, rather than postponement of an entire round to Monday. Had a sudden-death playoff for the title been necessary, it would have been held Sunday afternoon on selected holes.
Though conditions weren't ideal on any day, a surprising number of notable shots were recorded. Loren Roberts scored the first-ever hole in one on the 194-yard No. 16 using a 7-iron. The three other par-threes had been aced in previous Memorials. No. 3, a 392-yard par four, yielded eagles on three consecutive days. Payne Stewart holed a pitching wedge in the first round; John Cook had the second round eagle and Bill Glasson the third round deuce. Stewart also eagled the 531- yard par 5 No. 5 in the opening round. The 36-hole cut came at 157, matching the all-time high set in 1979.
View 1989 Recap