1991 Recap
Dates: May 16-19,1991
Purse: $1,200,000
Par: 36-36=72
Yardage: 7,104 yards

View Scoreboard
---
Leaders
First Round – Corey Pavin shot a 6-under par 66 and led by one stroke over Dave Rummells. Fuzzy Zoeller and Tom Watson were tied for third place at 4-under par 68. Second Round – Kenny Perry set a course record with a 9-under par 63, breaking the old mark by a stroke; his total of 11-under par 133 gave him a three-stroke lead over Chip Beck. Pavin and Zoeller were tied for third place at 7-under par 137. Third Round – Perry added a 69 for a 14-under par 202. Pavin had a 67 for a 12-under par 204. Hale Irwin (65) and Ted Schulz (67) were tied at 9-under par 207.
---
Notes
Cut Notes: 78 players from a field of 103 at four-over-par 148
Missed Cut: Tommy Armour III (74-77-MC), Bill Britton (78-75-MC), Mike Donald (79-70-MC), Ed Dougherty (76-73-MC), David Graham (79-75-MC), Hubert Green (74-77-MC), Ricky Kawagishi (73-76-MC), Bob Lohr (71-78-MC), Andrew Magee (78-74-MC), Jeff Maggert (71-80-MC), Roger Maltbie (84-75-MC), Billy Mayfair (82-69-MC), Rocco Mediate (75-74-MC), John Morse (76-77-MC), Jodie Mudd (72-77-MC), Rolf Muntz (84-77-MC), Andy North (76-84-MC), Jerry Pate (78-73-MC), Steven Richardson (75-74-MC), Eduardo Romero (78-76-MC), Gene Sauers (77-77- MC), Tom Sieckmann (79-74-MC), Jim Thorpe (75-76-MC), Scott Verplank (76-80-MC), Mark Wiebe (75-75-MC).
Weather: Warm and humid Thursday and Friday. On Saturday, early morning thunderstorm forced change in starting times, from pairs starting at 7:30 to threes off both tees starting at 10:05 a.m. Mostly sunny on Sunday.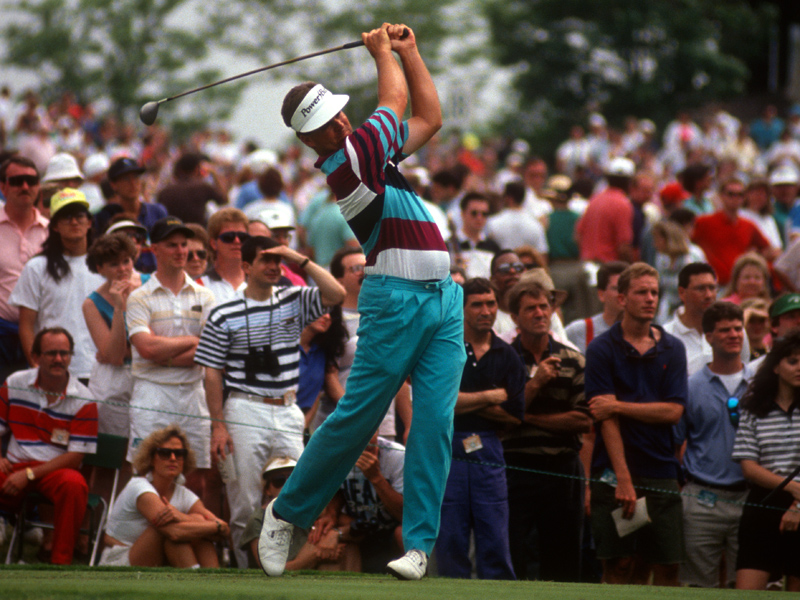 Kenny Perry Wins the 1991 Memorial Tournament
James Kenneth Perry kept referring to events during the 16th Memorial as "unbelievable," but never did the superlative seem more apropos than at the finish. Consider the principal protagonists in essentially a two-man battle down the stretch and into the play-off: Perry-Only a pair of second-place finishes highlighted his resume for four years and four months on the TOUR. In that time the 30-year-old Western Kentucky grad had banked $815,000 in prize money; 50th had been his best one-season ranking and he stood 74th for 1991. He'd missed the cut twice and finished 59th in previous Memorial appearances.
Hale Irwin - In his 24th year on TOUR, the 45-year-old former Colorado defensive back included three U.S. Opens among his 19 victories; held ninth place in all-time career money-winnings with $4,268,000; had been better than 50th in single-year earnings 17 times, and Top 10 eight times. He'd won two Memorials, made all 16 cuts and collected $67,000 more prize money than the dollar runner-up.
So, with 71 and 66 finishing rounds respectively, they wind up all even at 273, 15-under par for four tours of the Muirfield Village course, and poised for the Memorial's third-ever play-off. So, on which would you wager the family's rent money? It took Perry only one hole to prove you wrong.
But let's set the stage. Perry soared from a 17th place tie at 18 holes(70) to a three-stroke lead at 36 with the most spectacular round in the Memorial's 16 stagings: a course and tournament record 9-under-par 63 that included a hole-in-one and eight birdies - three of them to start the round and the other five in a stretch from No. 8 through 15.
"It was just unbelievable," he marveled. "I've never had so many balls go in the hole." Of the three-birdie opening, he insisted "a start like that is unbelievable." Of the hole-in-one on No. 16: "It was unbelievable when that shot went in . . . hit about 20 feet in front of the pin, bounced once and rolled like a putt into the cup."
Through No. 15, he'd holed birdie putts of 40, 30, 12, 18, 20, 25 and six feet, and one two-incher. For the record, his ace was only the second ever recorded on the 194-yard No. 16 (Loren Roberts bagged the first in 1990).
"Things like today just happen," Perry decided. "Unbelievable!"
He scrambled some in Saturday's four-birdie, one-bogey round, which cynics mistakenly read as the beginning of a pressure slide by a non-winner. But he saved par out of the bunker at No. 18 for the 69 and 14 under par 202, wielding the putter only 25 times for the second straight day. First round leader Corey Pavin, a winner in Atlanta the previous week (his second win of 1991), trailed by two after a six-birdie 67, and two marquee names joined the hunt: Irwin, with a sizzling 65 to share third with Ted Schulz (67) at 207, and Tournament Founder Jack Nicklaus with a 69 for 208. Hale birdied seven of the last 12 holes and three of the last four Saturday - eight for the round - and followed Friday's birdie-birdie-eagle string on Nos. 8-9-10 with birdie-birdie-birdie-birdie on Nos. 7 through 10, concluding that "I scored and played today about as well as I can."
Riding that hot streak, Irwin, with 30 scores of par or better in 63 Memorial rounds, entered Sunday's showdown as the favorite. Nicklaus, who had played his last 46 holes with only a single bogey and 9-under-par, and Pavin, the year's leading money winner, were close second choices. But Perry, the outsider, survived all the final round heat to collect the Memorial Trophy and the big slice of the $1.2 million plus payoff, a gutsy performance that, in the process, earned him the admiration of his fellow com-petitors and of Muirfield's largest ever gallery. The $216,000 was only $63,000 less than his combined checks from his 23 tournaments in all of 1990.
Swinging along at a steady l-under par through Sunday's first eight holes, Perry dunked his 8-iron into the creek at No. 9 for double bogey, but still held a stroke edge over the charging Irwin (239-240). Irwin's birdie on No. 12 created a tie and he edged ahead with a birdie at No. 15. It was the first time Perry had been out of the lead, but he didn't stay down long. Playing in the following two-some, he matched Irwin's birdie an No. 15 and scrambled back on top with a 4-foot birdie putt at No. 16. Perry's miss of a 5-foot par putt on No. 17, and Irwin's par, created another deadlock and neither could manage a tie-breaking birdie at No. 18. And talk about pressure: Irwin threw six birdies at Perry on holes 7 through 15 while the gallery roared, and one-putted 10 of his last 11 holes. As Irwin's run became a stretch dash, Perry said, "I kept telling myself, 'Do NOT look at the scoreboard!"
All even, they - and the fever-pitch gallery headed for No. 15, with the defending U.S. Open champion again expected to prevail in this ultimate wood to iron to putter showdown. But Irwin's drive on the first extra hole caromed off a tree at the right side of the fairway and came to rest in the left rough. Still short of the green with his second, he wedged to the left fringe; a chip for birdie rolled six feet past the cup, and the comeback putt missed. The outcome became almost anti-climactic. Perry unleashed a perfect drive and a powerful 2-iron to the back of the green, 30 feet from the pin. His eagle putt died a foot short.
"Way to hang in there, kid," said Irwin, as Perry holed out for a birdie. "I hit a lot of good, solid shots down the stretch," said Perry, the first player in 16 years to make the Memorial Tournament his first TOUR career win. "It really means a lot to me to know I can do it." I
rwin, loser to Roger Maltbie in the Memorial's first playoff (1976), tied Scott Hoch's 36-hole tournament record with his back-to-back 65- 66=131 in the third and fourth rounds. Pavin finished third at 275, four shots ahead of Craig Stadler and Mike Hulbert. Nicklaus, forced to gamble in an effort to make up ground, slipped to a 74=282, one apace Scott Simpson, who had the last day's best round, a 65.
Given mostly ideal weather, the pros shattered the Memorial record for under-par rounds with 138, 36 more than the previous high set in 1980. Paul Azinger tied a tournament record with nine birdies in the third round and Hal Sutton's 10 consecutive fours (2 through 11) also equaled a tournament best.
Tuesday's "Twin Skins Game" was played in 90-degree temperatures and the first two rounds of the Memorial in the 80's, each time with welcome sunshine. A light rain fell as Friday's round was being completed - the first precipitation at Muirfield in weeks - and lightning in the area, accompanied by misty rain, caused more than an hour delay Saturday morning and sent the field away in threesomes and from both tees. Sun and summer-like temperatures returned for Sunday.
View 1990 Recap