1992 Recap
Dates: June 4-7, 1992
Purse: $1,300,000
Par: 36-36=72
Yardage: 7,104 yards

View Scoreboard
---
Leaders
First Round, Nolan Henke fired a 7-under-par 65 and led by two strokes over Mark Brooks. Second Round, Nolan Henke and Joey Sindelar at 10-under-par 134 led by a stroke over Don Pooley, Mark Brooks and Paul Azinger. Third Round, Joey Sindelar at 15-under-par 201 led by three over Brooks and Jeff Maggert.
---
Notes
Cut Notes: 76 players at 1-over-par 145, from a field of 113.
Missed Cut:
Ian Baker-Finch (72-74-MC), Andy Bean (73-74-MC), Phil Blackmar (74-76-MC), Billy Ray Brown (77-71-MC), Brad Bryant (74-72-MC), Howard Clark (75-72-MC), John Daly (78-75-MC), Allen Doyle-A (79-73-MC), David Eger-A (77-74-MC), Brad Faxon (74-73-MC), David Graham (79-76-MC), Hubert Green (77-76-MC), Gary Hallberg (76-70-MC), Todd Hamilton (77-70-MC), Ricky Kawagishi (73-77-MC), Kenny Knox (75-77-MC), Doug Martin (77-72-MC), Blaine McCallister (77-71-MC), Andy North (78-74-MC), Jose Maria Olazabal (75-72-MC), Mark O'Meara (74-72-MC), Craig Parry (75-71-MC), Kenny Perry (73-73 MC), Gene Sauers (78-77-MC), Scott Simpson (76-70-MC), Tom Sieckmann (72-75-MC), Craig Stadler (77-70-MC), Jim Thorpe (75-75-MC), Kirk Triplett (84-66-MC), Mitch Voges-A (87-71-MC), Tom Weiskopf (77-72-MC), Gary Wolstenholme-A (79-77-MC), Richard Zokol (73-75-MC), Jodie Mudd (79-WD), Dave Rummels (74-WD), Bob Tway (76-WD), Lanny Wadkins (71-69-73-DQ).
Weather:
Rain off and on all day Thursday but no delays. Play was suspended at 3:15 p.m. on Friday due to rain and lightning, and resumed at 5:05 p.m. Play was again halted at 6:00 p.m. and officially postponed at 6:25. Play was scheduled to resume at 7:30 a.m. on Saturday, but was postponed due to sloppy course conditions. The third round started at 12:30. There were no further delays on Saturday. Sunday`s round was suspended at 2:30 p.m. and resumed at 4:50.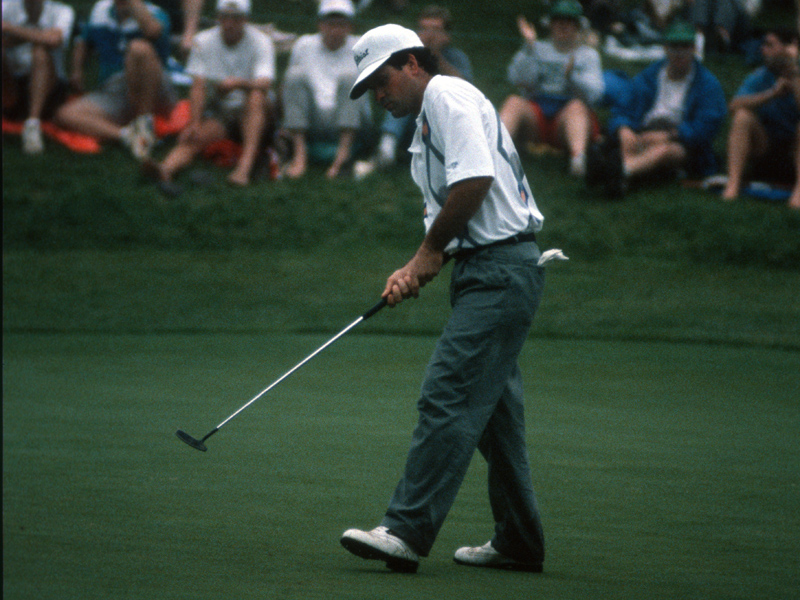 David Edwards Wins the 1992 Memorial Tournament
In the twilight of June 7, the question became not so much who would win the Memorial Tournament, but whether anybody would - until at least June 8. David Edwards finally did, in a two-hole playoff against Rick Fehr, after tying at 15-under-par 273 in regulation distance. It was the fourth time and second straight year that the Memorial required extra holes. This one also had extra dramatics. Muirfield had been pestered by rain on the first three days and more of the stuff arrived early Sunday afternoon, halting play. When the "precip" abated, Mike McBride's golf course crew used squeegees to clear water from the sodden greens and fairways. The pros sloshed back out and resumed play after a 2 hour and 15 minute delay - with the skies still overcast. Fehr ignored the elements to nail eight birdies in his first 16 holes and built a two-stroke lead over Edwards, playing ahead. On No. 17, he pulled his tee shot into the big fairway bunker left and blasted it into the bunker at the right of the green. He missed a par putt from six feet. As he walked off the green, he saw the scoreboard flash a birdie for Edwards on No. 18 and realized they were suddenly tied for the lead. He had a chance to win from 20 feet on No. 18, but missed for a 273 and playoff. That was what the PGA TOUR and Memorial officials didn't need. Because of the rain delay and threatening skies, daylight was fast becoming a concern. However, the playoff couldn't begin, because Joey Sindelar, the 54-hole leader, had staged a remarkable comeback from a shaky start and could match 273 with a birdie on the finishing hole. When his second shot stopped 10 feet from the cup on No. 18, a three-way playoff became a distinct possibility. Officials had rushed Edwards and Fehr to the 16th tee, but were forced to await Sindelar's putt. He missed by inches and the playoff began. Fehr and Edwards parred the 16th. Fehr's second on No. 17 sailed right and into casual water. He received a drop - as all players did after the rain, but came up what he thought "had the look of an imbedded ball." But he hit the shot and left it short of the green, chipped to 12 feet and missed the putt. Edwards' second was 20 feet from the pin and he two-putted for his third win in 14 years on the PGA TOUR and his first since the Los Angeles Open in 1984. He had rounds of 71-65-70-67 to Fehr's 69-70-67-67. Sindelar, the former Ohio State University All-American, finished in a third-place tie with Payne Stewart at 274, a disappointing climax to an eventful four days. He shared the halfway lead with Nolan Henke, thanks to a Friday 65, and moved three strokes ahead at 54 holes with a 67 for 201. Jeff Maggert, with a 66, and Mark Brooks shared second at 204, Henke was tied by former champion Don Pooley at 205. The rains could have helped Sindelar on Sunday. He started with a bogey and faced a 15-foot putt for par on the second hole at the play suspension. Back on the course, he completed the bogey on No. 2, parred the third and double-bogeyed the fourth. He hadn't driven in the fairway yet. But Sindelar played the final 14 holes in 3-under-par to get to No. 18 with play-off hopes still alive. Seven players had at least a share of the lead during the last round, which began at 8:27 a.m. and finished as the clock moved close to 9 p.m. - and darkness threatened to force a Monday finish. Possibly no more than one more playoff hole could have been completed. But Fehr's bogey - his second playoff loss of the year - and Edwards' par ended the anxiety. Edwards posted birdies on the final two holes of regulation to grab his piece of the overtime. Tournament host Jack Nicklaus finished at 284, tied with another Ohio Stater, John Cook. Henke set a sizzling pace in the first round, 7-under-par 65, two better than Mark Brooks. A light rain turned Muirfield into "a large dart board," according to Doug Tewell and scores con-firmed it. Eighteen players finished in the 60's and 41 beat par. Fehr was among them with a 69, as was Edwards with a 71. Sindelar vaulted into a tie for the lead at 36 holes with a 65 for 134, while Henke kept a share with a 69 that included six birdies - giving him 14 for the two rounds. Pooley stayed close with a 67-135. Paul Azinger was 9-under-par after 11 holes when play was suspended for the day and finished Saturday morning to a 71. Edwards took an upward step with a second round 65. For the first time in Memorial history, officials sent the leaders off on No. 10 for the third round because of early TV times and the concentration of cameras on the back nine. However, the leaders had not made the turn when coverage ended and Henke and Brooks were battling for the lead. Sindelar birdied four of the final five holes to build a 3-stroke edge on the field.
View 1991 Recap