1994 Recap
Dates: May 19-22, 1994
Purse: $1,500,000
Par: 36-36=72
Yardage: 7,104 yards

View Scoreboard
---
Leaders
First Round – Mark Brooks, at eight-under par 64, led by three over Tom Lehman and John Cook. Second Round – Lehman, at 10-under par 134, led by two over Cook and David Edwards. Third Round – Lehman, at 15-under par 201, led by four over Cook.
---
Notes
Cut Notes: A total of 74 players at (73 pros, one amateur) at four-over-par 148 or better.
Missed Cut: Michael Allen (76-80-MC), Ian Baker-Finch (79-76-MC), Dave Barr (74-77-MC), Jay Don Blake (74-75-MC), Glen Day (75-74-MC), Jay Delsing (71-79-MC), Nick Faldo (76-74-MC), Keith Fergus (76-78-MC), Dan Forsman (72-78-MC), Carlos Franco (80-75-MC), Jim Gallagher, Jr. (77-78-MC), David Graham (81-77-MC), John Harris (70-80-MC), John Inman (78-74-MC), Tony Johnstone (74-78-MC), Greg Kraft (74-78-MC), Neal Lancaster (71-79-MC), Andrew Magee (79-75-MC), Roger Maltbie (75-77-MC), John Morse (78-72-MC), Jack Nicklaus (75-77-MC), Brett Ogle (74-79-MC), Seiki Okuda (78-75-MC), Craig Parry (77-78-MC), Steve Pate (76-75-MC), Tom Purtzer (74-75-MC), Iain Pyman (76-73-MC), Ted Schulz (74-78-MC), Joey Sindelar (75-76-MC), Vijay Singh (78-78-MC), Jeff Sluman (80-72-MC), Payne Stewart (78-74-MC), Hal Sutton (73-76-MC), Greg Twiggs (78-82-MC), Howard Twitty (78-78-MC), Bobby Wadkins (77-74-MC), Lanny Wadkins (77-73-MC), Grant Waite (77-75-MC), Fuzzy Zoeller (76-73-MC).
Weather: Perfect for all four days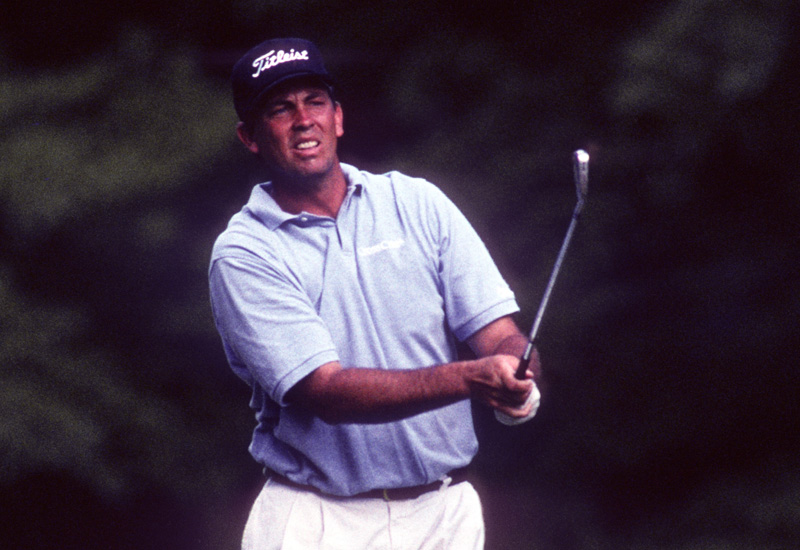 Tom Lehman Wins the 1994 Memorial Tournament
"Bobby Jones once used these words to describe me early in my career," said Memorial Tournament host Jack Nicklaus at the 1994 closing ceremonies. "But let me tell you, Tom Lehman played a game this week with which I am not familiar." Nicklaus' words capped off a history-book week at Muirfield Village Golf Club. It began with sunny skies and moderate temperatures that would only become warmer as the course dried to firm and perfect conditions for the entire week. Legendary female golfer Mickey Wright was inducted as the '94 Honoree, and defending champion Paul Azinger, undergoing cancer treatments, made his first tournament appearance to stir an emotional capacity crowd at the 18th hole ceremony. And a burly Minnesotan, winless on the PGA TOUR and reeling from a Masters runner-up finish a month earlier, would streak across a tough Muirfield course with quadruple 67's to stun galleries and set a new tournament record. "This is one of the greatest moments of my life," said Lehman who used to sneak over to Muirfield and watch the pros play when he was in town for Big 10 college matches between his Golden Gophers and the Buckeyes. "I knew I could win on TOUR; I just had to stay cool. There were times out there when the crowd was cheering and standing, and tears would well up in my eyes." With a flu-stunted appetite and only two apples and a banana as fuel for the final two rounds, Lehman overpow-ered the field with an uncatchable performance. But chasing Lehman and going in for the kill was Greg Norman who charged the Sunday lead with his own dra-matics and final round 64. Lehman never succumbed to the pressure and clinched his first TOUR win with a five-stroke victory over The Shark and a Memorial record 268. Also chasing the run-away Lehman into the final round, Ohio State grad John Cook mounted an attack that would fall short of Lehman's untouchable record pace. His final-round 71 wasn't enough for the aggressive and flawless game of Lehman. Early in the week, Mark Brooks grabbed the first round lead with a near-record pace to close out the day with an eight-under par 64 which included a 31 on the front side. Tied behind him in second place were Cook and Lehman who finished with duplicate 67's. "I thought about the record, maybe around hole 12," admitted Brooks. "But on this course, you don't think about things like that too long. The course is too tough and there's too much tournament left." Dry and sunny conditions continued into the second round where the fairways were firmer and the greens faster. That was just the recipe for Lehman, the man who finished second and third at the '94 and '93 Masters on Augusta's hard and fast grounds. Three birdies and an eagle fueled Lehman to his second 67 and a two stroke lead over hometown hero Cook. Cook, a member at Muirfield Village Golf Club, matched the 67 and orches-trated his second bogey-free round. "I didn't think a bogey-less round was possible here," said Cook who didn't see a bogey until his 46th hole of the tournament. "Augusta and Muirfield have similar conditions in hard fairways and slick greens," described Lehman. "I learned a lot at Augusta that's helped me at Muirfield." Paired in the final round on Saturday, Lehman and Cook were set to duel in ideal dry and warm course condition. Lehman, however, had a bout the night before with nausea and a stomach flu, and didn't know if he could maintain his two stroke lead. Amid Columbus fans whistling the Ohio State fight song, Cook felt certain he was poised to knock his opponent out of the lead. The lead changed hands repeatedly throughout the day, but neither man fell behind by more than one or two shots going into the final hole. Ending the 18-hole duel with a punishing blow, Lehman sent a 16-foot putt for a trip circling the hole's rim before it leaned in for a birdie. Cook let a rare bogey fall, and Lehman's lead was increased to four strokes heading into the final day. But Lehman's record pace shut out the field on his way to becoming the l9th Memorial Tournament winner. "If there's one thing I learned at the Masters, it's that I can handle the pressure," said Lehman. "I knew I'm ready to win physically, emotionally, spiritually - you name it. I knew I could do it." Another footnote to golf history was written by 1989 Memorial winner Bob Tway who recorded two aces - a feat which has never been accomplished on the PGA TOUR. Charging to an early first round lead, Tway notched his first hole-in-one via a seven iron on the 8th hole that sailed 187 yards to the hole. Although he slipped back in the field by Saturday, Tway repeated golf's rare feat in the third round when he sent his l55-yard nine iron shot to the bottom of the cup on hole 12. The dramatics of double aces in one tournament brought Tway's career hole-in-one total to 16.
View 1993 Recap