2018 Recap
Dates: May 31-June 3, 2018
Purse: $8,900,000
Par: 36-36=72
Yardage: 7,392 yards

View Scoreboard
---
Leaders
First Round
Abraham Ancer 65 (-7)
Joaquin Niemann 65 (-7)
Hideki Matsuyama 65 (-7)
Beau Hossler 66 (-6)
Bryson DeChambeau 69 (T16)
Second Round
Kyle Stanley 133 (-11)
Joaquin Niemann 133 (-11)
Byeong Hun An 135 (-9)
Wesley Bryan 136 (-8)
Hideki Matsuyama 136 (-8)
Jason Day 136 (-8)
J.B. Holmes 136 (-8)
Bryson DeChambeau 136 (-8)
Third Round
Bryson DeChambeau 202 (-14)
Patrick Cantlay 203 (-13)
Kyle Stanley 203 (-13)
Joaquin Niemann 203 (-13)
Byeong Hun An 204 (-12)
Justin Rose 206 (-10)
---
Notes
Cut Notes: 81 professionals made the 36-hole cut at even-par 144 from a field of 119 professionals and one amateur. The 54-hole cut came at
Missed Cut:
Weather:
Thursday: Partly cloudy with a high of 88. SW wind at 10-15 mph, gusting to 20 mph. Friday: Overcast with scattered showers and an afternoon thunderstorm which caused a 1 hour, 28-minute delay. High of mid-80s. WNW wind at 5-10 mph. Saturday: Partly cloudy becoming sunny later in the day. High of 80. N wind at 10-15 mph. Sunday: Cloudy with a high of 81. Wind W 10-15 mph with gusts of 25 mph.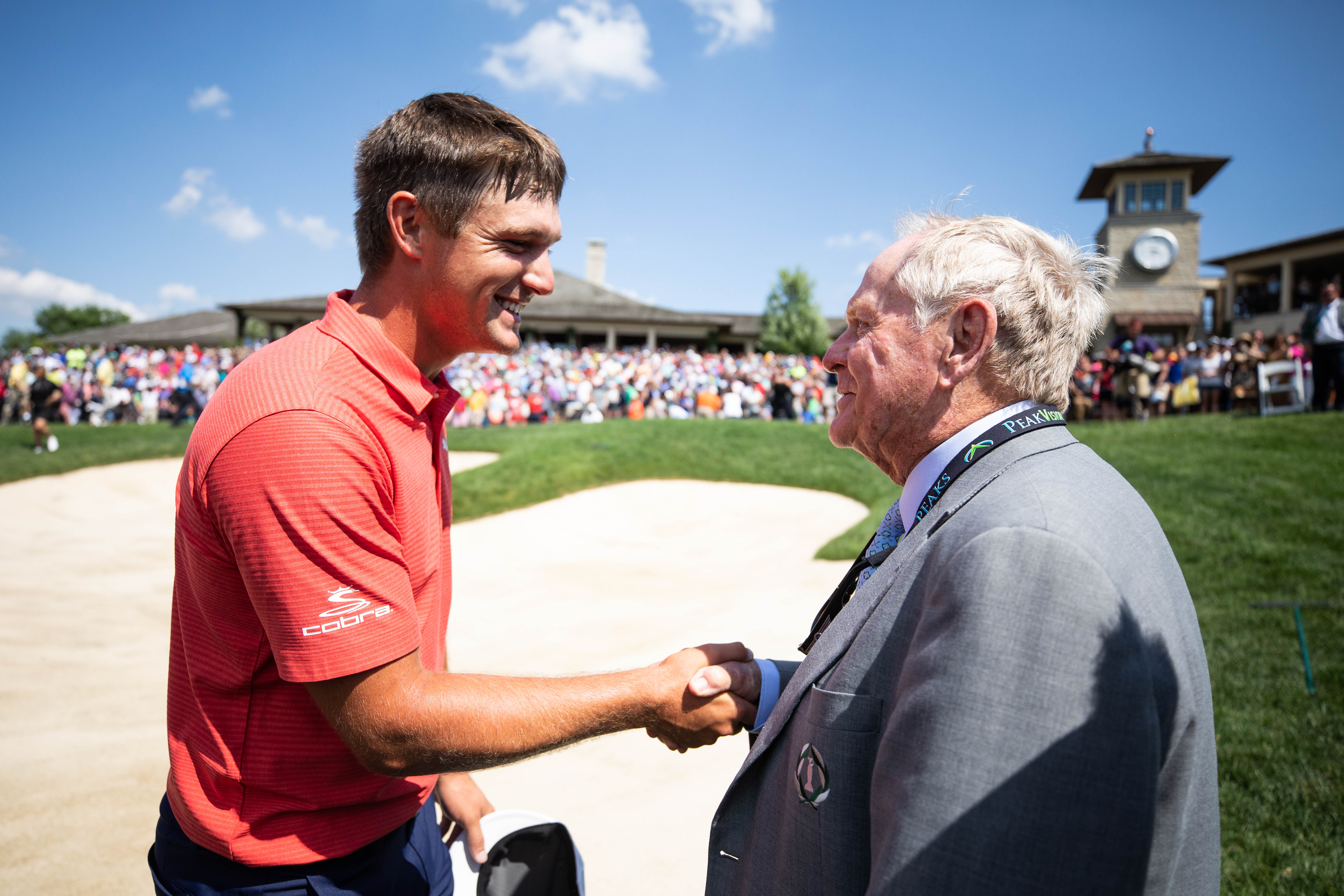 Bryson DeChambeau Wins the 2018 Memorial Tournament
Winning the 43rd edition of the Memorial Tournament presented by Nationwide was special to Bryson DeChambeau for a number of reasons. It was his second PGA TOUR title in as many years. It came in one of the elite events on TOUR hosted by legend Jack Nicklaus. It was populated by one of the year's strongest fields.
And DeChambeau had to earn it, overcoming a bogey on the 72nd hole to fall into a playoff, but then outplaying Kyle Stanley and Byeong Hun An in sudden death to earn a handshake from the Golden Bear, not to mention $1.602 million.
DeChambeau didn't have close to his A-game on June 3 for the final round of the Memorial, but his short game and putting were good enough until he beat An on the second playoff hole with a 12-foot birdie putt on the same 18th green where he had three-putted at the end of regulation.
After missing the 18th green his first two tries on Sunday - the first costing him a bogey that dropped him into a playoff with An and Kyle Stanley - DeChambeau got it right the third time, drawing an 8-iron to 12 feet above the hole and sinking the decisive birdie putt for his second PGA Tour title.
When the putt dropped, DeChambeau excitedly pumped both arms in rapid-fire fashion.
"That was a big celebration there," said DeChambeau, 24, who apparently likes golf in central Ohio even though he hails from Clovis, Calif. Each of the previous three years DeChambeau qualified for the U.S. Open via sectional qualifying at Columbus-area courses.
DeChambeau, the 54-hole leader, carded a final-round 71 at Muirfield Village Golf Club to finish at 15-under 273 before winning the first three-way playoff in Memorial history and the fourth playoff in the last five years. Stanley, the second round co-leader, had a 70 while An shot 69.
The win propelled DeChambeau to fourth in the FedEx Cup standings and eighth in the U.S. Ryder Cup standings, a goal that tops all others for the second-year tour member. But the real prize for golf's deepest thinker is backing up last year's victory in the John Deere Classic with another win, one that came with Tournament Founder and Host Jack Nicklaus looking on and against a field that included eight of the top 10 in the world rankings and five-time Memorial winner Tiger Woods.
"To be able to win on Jack's course is pretty special," said DeChambeau after his fifth top-five finish of the season, most on tour. "I know coming here a couple years ago I wanted to do it then - my game wasn't near good enough to win - so it's taken a couple years for me to get to that caliber and I was fortunate enough to be able to come out victorious here at Jack's course, which, again, I'll say it time and time again, this is probably the most important win I think of my entire career, because of the fact that it happened here at Jack's course and also because it's kind of validity to me being out here on TOUR as well, me being able to get the job done. I know I can do it consistently."
And not even with his best stuff. He saved par from off the green 17 of 21 times, thanks mostly to leading the field in strokes gained-putting.
"I kind of grinded it out," he said.
"That's right, you grind it out and sometimes that's what you got to do," Nicklaus said. "But you know, if your driver's not working, your putter better be working. And if your putter's not working, everything else must be working. But he had the right club working today and that was his flat club."
The win came one year after DeChambeau didn't even make the field at Muirfield Village because of a deepening slump. He was in the midst of missing eight cuts in a row and 13 in his first 17 starts of the year, a string that ended with a poor U.S. Open performance.
"That was tough a tough pill to swallow. Because I felt like I didn't belong out here for a little bit," said DeChambeau, one of five players (including Nicklaus) to win the U.S. Amateur and NCAA title in the same year. "But I was able to go back home that weekend and look myself hard in the face and mirror and say, 'Look, you have to figure out something if you want to stay out here.' And so, I went back to the drawing board, kind of figured something out, and ultimately wound up winning the John Deere four weeks later."
The Memorial title was bigger, however, primarily because of the quality of the golf course and the strength of the field. Not only did eight of the top 10 in the world compete, but six of them finished in the top 15, while Woods, who was lurking all weekend thanks to great ball-striking, ended up tied for 23rd. DeChambeau had to fight off a decorated bunch.
"Any time you get to compete against the best players in the world - and I think Jack you alluded to this is the best field you've had -- to be able to have this type of caliber all chasing is kind of special," DeChambeau said with a relieved smile. "I knew I had to go out there and play well."
He played well enough. He found a way.
View 2017 Recap