2019 Recap
Dates: May 27 - Jun 2, 2019
Purse: $9,100,000
Par: 36-36=72
Yardage: 7,392 yards

View Scoreboard
---
Leaders
First Round
Ryan Moore 65 (-7)
Jordan Spieth 66 (-6)
Anirban Lahiri 67 (-5)
Marc Leishman 67 (-5)
Martin Kaymer 67 (-5)
Vaughn Taylor 67 (-5)
Bud Cauley 67 (-5)
Second Round
Troy Merritt 135 (-9)
K.H. Lee 135 (-9)
Martin Kaymer 135 (-9)
Jordan Spieth 136 (-8)
Bud Cauley 137 (-7)
Patrick Cantlay 137 (-7)
Emiliano Grillo 137 (-7)
Adam Scott 137 (-7)
Rickie Fowler 137 (-7)
Third Round
Martin Kaymer 201 (-15)
Adam Scott 203 (-13)
Hideki Matsuyama 205 (-11)
Patrick Cantlay 205 (-11)
Jordan Spieth 205 (-11)
---
Notes
Cut Notes: 73 professionals at 1-over 145 from a field of 118 professionals and two amateurs.
Missed Cut:
Weather:
THURSDAY: Partly cloudy with scattered showers and a high of 72. Wind SW at 10-20 mph.
FRIDAY: Partly cloudy. High of 79. Wind NW at 5-10 mph.
SATURDAY: Partly cloudy. High of 82. Wind SW at 10-18 mph.
SUNDAY: Partly cloudy. High of 70. Wind NW at 12-22 mph.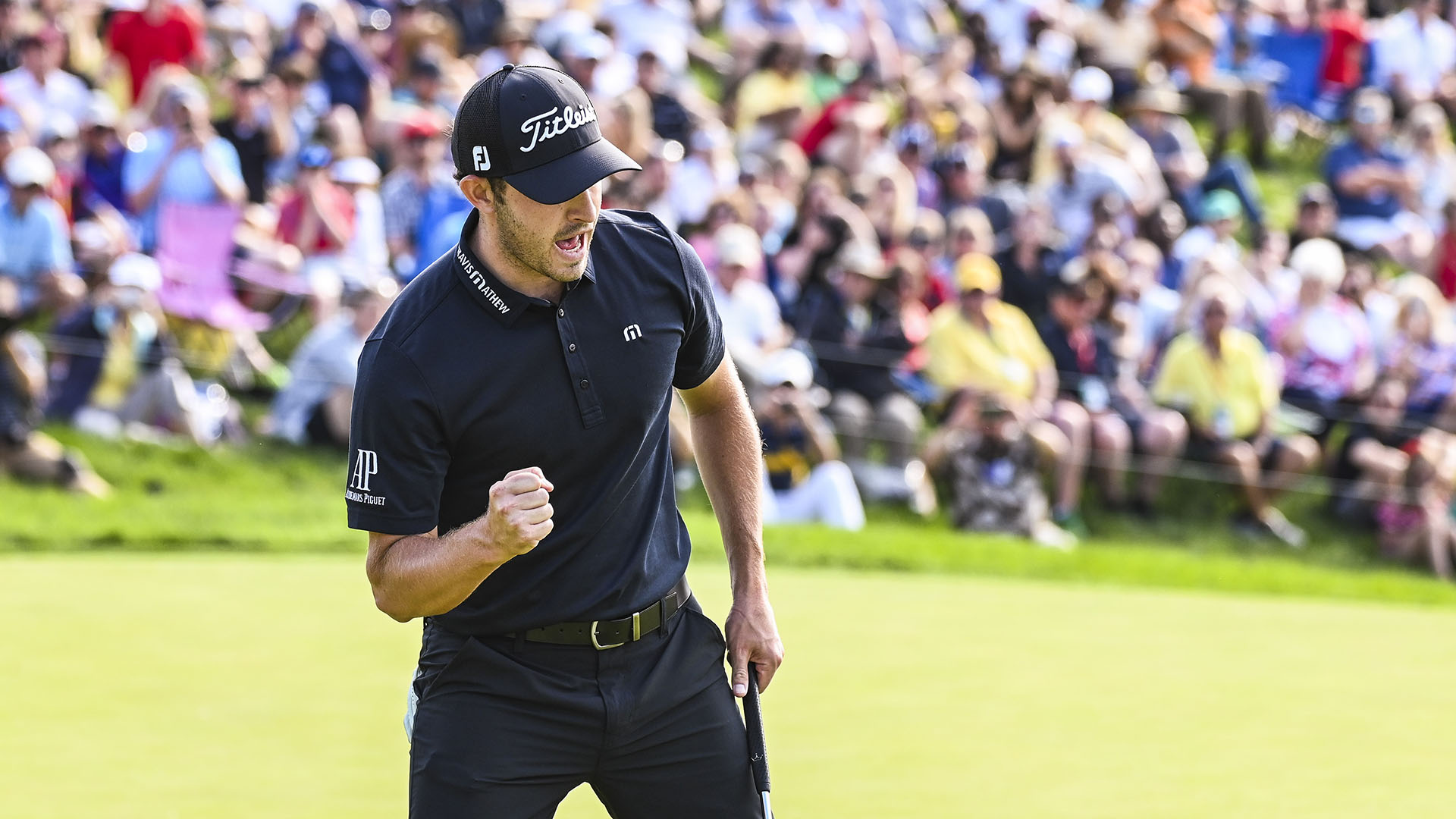 Patrick Cantlay Wins the 2019 Memorial Tournament
It's one thing to seek advice. It's another to know how to use it.
Early in the week of the 44th Memorial Tournament presented by Nationwide, Patrick Cantlay, a former Jack Nicklaus Award winner sought advice from Tournament Founder and Host Jack Nicklaus about what it takes to win. The talented UCLA product had only done so once, in Las Vegas, and he figured that the Golden Bear could probably give him a few pointers.
Whatever he learned, it must have been helpful. Cantlay calmly fired a final-round bogey-free 64, the lowest round by a winner in Memorial Tournament history, to surge past two more experienced players and major champions, Germany's Martin Kaymer and Australia's Adam Scott.
Overcoming a four-stroke deficit at the start of the day, Cantlay, 27, finished at 19-under 269, one off the Tournament record Tom Lehman set 25 years ago. With a 64 in the third round, Cantlay also posted the second-lowest final 36 holes in Tournament history, one off Curtis Strange's 131 in 1988.
"It feels like a win has been coming," said Cantlay, who recorded his eighth top-10 of season.
Perhaps Nicklaus helped. Perhaps not. Jack wasn't so sure. "We're here talking, so everybody is going to say, "Oh, gee, Jack did this. I didn't do anything," the Tournament founder and host said. "He won the golf tournament.
"All I was trying to pass on to Patrick was to try to get a little more of a relaxed attitude in his head so that when he got himself in that position, it wasn't like all the pressure was on top of him. It may have resonated with him, it may not have."
Coincidentally, Kaymer and Scott, two former No. 1 players, have been trying to find some sense of calmness for their games. Kaymer hadn't won since he scorched the field in the 2014 U.S. Open for his second major title. Scott, the 2013 Masters winner, last finished on top in back-to-back events in Florida in 2016.
Scott finished second, two in arrears of Cantlay after a 68. Kaymer ended up third at 273 after a 72. Maybe they should have talked to Jack, too.
Of course, there is nothing you can do when a guy plays Muirfield Village Golf Club like he's on a pitch and putt. The 2011 Nicklaus Award winner, who occupied the top of the World Amateur Golf Ranking for a record 55 weeks before making his pro debut in 2012, bumped into Nicklaus in the clubhouse on Wednesday. He got his first lesson.
Jack told him, "you've got to figure out how to play those last 30 minutes." Cantlay eagerly soaked in the words. "Hearing it from someone like Jack gives it a little more weight - a lot more weight," he said.
Two days later, eating lunch after a solid 69, Cantlay was fed a bit more food for thought from the Bear. "He said, "You need to go out there and have a good time. Look around when you're out there. And then you need to have a great time and realize why you're out there and relax and go have fun and go with the golf tournament,'" Cantlay shared. "I definitely said that to myself down the stretch today. It put me a little more at ease."
It didn't hurt that when Cantlay showed up for his first start in the Memorial two years ago - after a long and frustrating and emotional stretch on the sidelines - he immediately asked Nicklaus to talk him through the golf course, and the quick tutoring session also contributed to a confident demeanor. He finished T-4 last year and figured he was due to build on that.
And he did, although Cantlay, who began the final round 11 under par, didn't catch Kaymer until he birdied the par-5 11th hole to reach 17 under. Then he birdied 14 and 15, the latter after he just missed an eagle try by inches from 47 feet, to take charge while Kaymer struggled with his driver and began pressing.
Having finally nosed out front, Cantlay closed with three pars, including a sand save at the last capped by a clutch eight-foot putt that all but sealed it. His face was a study in concentration, not enjoyment, but that soon followed when he shook the Tournament host's hand.
"Having his words in my head and being able to close it out here in front of Jack is a great feeling," said Cantlay, who sees Nicklaus as a bit of a kindred spirit. The Golden Bear wouldn't disagree.
"Patrick reminded me a lot of me being serious and I get so wrapped up in what I'm doing I forget about everything else that's going on around me," Nicklaus said. "And I learned years ago that when I got close to finishing a tournament, maybe two or three holes or four holes left, I would stop, look around me - just exactly what he was saying earlier. Stop, look around me … take a nice big breath. It would relax me. I'd look around, these people are here, they're having fun. I need to have fun. I need to enjoy winning this golf tournament, not torment me trying to finish the golf tournament."
All Cantlay did was torment the competition. He finished things off in a way that was very familiar to the Tournament Host.
View 2018 Recap