1982 Recap
Dates: May 27-30, 1982
Purse: $380,445
Par: 36-36=72
Yardage: 7,116 yards

View Scoreboard
---
Leaders
First Round – Roger Maltbie, with four-under par 68, lead by one over Keith Fergus, Frank Conner, Bruce Fleisher and Steve Melnyk. Second Round – Maltbie equaled the tournament record with a 66 and set a new 36-hole mark at 10-under par to lead by six over Hale Irwin, Scott Simpson, Peter Oosterhuis and Hal Sutton. Third Round – Gil Morgan eagled the final hole to tie Maltbie at seven-under par 209. Maltbie had a 75. Raymond Floyd was one back at 210.
---
Notes
Cut Notes: 74 players (72 pros, two amateurs) at five-over par 149.
Missed Cut: Tommy Aaron (77-74-MC), Dave Barr (81-79-MC), Woody Blackburn (75-78-MC), Jim Booros (82-78-MC), Brad Bryant (85-74-MC), Rex Caldwell (76-84-MC), Lennie Clements (74-77-MC), David Edwards (74-77-MC), Ed Fiori (75-76-MC), Gibby Gilbert (79-74-MC), David Graham (77-74-MC), Morris Hatalsky (73-78-MC), Barry Jaeckel (79-70-MC), Masahiro Kuramoto (76-79-MC), John Mahaffey (78-74-MC), Jeff Mitchell (79-74-MC), Jodie Mudd (73-79-MC), Andy North (79-75-MC), Mark O'Meara (77-74-MC), Bob Shearer (78-79-MC), Jim Simons (76 -75-MC), Tim Simpson (78-73-MC), Sam Snead (81-77-MC), Dave Stockton (76-77-MC), Curtis Strange (79-73-MC), Lee Trevino (78-73-MC), Tommy Valentine (78-81-MC), Jim Dent (WD), Larry Nelson (WD), Tom Weiskopf (80-WD), Denis Watson (DQ).
Weather: Thursday, two-hour delay in late afternoon, thunderstorms. Friday, mostly cloudy. Saturday, three delays totaling 3 hours, 58 minutes. Sunday, rain early in day, clearing later.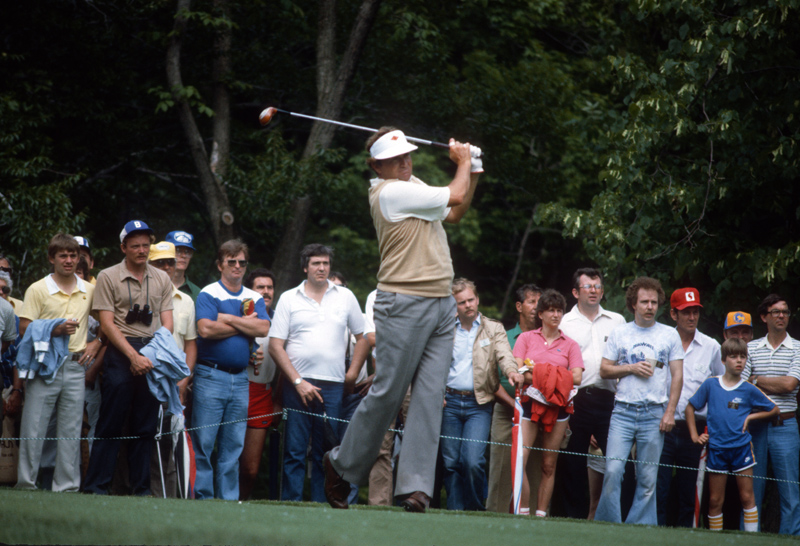 Ray Floyd Wins the 1982 Memorial Tournament
Raymond Floyd won a "doubleheader" of sorts. Of foremost import, the 39-year-old former Masters and PGA Champion fought off the challenge of Gil Morgan, Roger Maltbie, Peter Jacobsen and Wayne Levi in an exciting final round to capture the 1982 Memorial Tournament title. Also, in the process, Floyd conquered a personal frustration: he finally found the combination to the Muirfield Village Golf Club course.
"I've played some good rounds here," he conceded, after a closing 71 put him at 281 and two strokes ahead of his four rivals. "But I just couldn't put scores on the board. I'd play here and get so discouraged I'd schedule around it the next year. Jack (Nicklaus) and I have been buddies for a long time and we talked about it. I said " 'I just can't play your golf course.' " What bugged Floyd especially was that "one of the strong parts of my game is course management and this is a thinking man's course, where you must know where to position your shots; a course where you must really control your game." He proved the point this time, thereby doubling the pleasure of winning. "It was very rewarding," he agreed, "to win on a course that is probably the most difficult in the world to play - and the best conditioned."
With the secret unlocked, Floyd promised he wouldn't schedule around the Memorial again. I'll be the first one back next year," he grinned, then treated the press room to a case of 1973 Dom Perignon champagne (at $110 per bottle). Floyd's best finish in four previous Memorials had been an eighth place in 1980, when he opened with his only sub-par Muirfield round, at 68. When he posted four birdies and an eagle and still scored 74 in Thursday's opening round (1982), he admitted those "here we go again" feelings surfaced. But Raymond recalled, "I said to myself I'm not going to get discouraged. I knew I was playing well. I knew on a course like this, you've got to keep playing. I stuck with it."
Roger Maltbie, the 1976 champion, set the first round pace with a 68, followed by defending champion Keith Fergus, Frank Conner, Bruce Fleisher and Steve Melnyk at 69. After a two-hour rain delay at No. 13, Maltbie sank a 30-foot wedge from rough above a sand trap for birdie on the rugged No. 14 and grabbed another bird on No. 17 to dip 4-under. In the second round, Maltbie looked like a man determined to not only become the Memorial's first double winner, but to run away from the field. After a two-birdie, two-pars, two-bogey start, he birdied Nos. 7 (18-foot putt), 10 and 12 and eagled No. 15 by parring a 3-wood shot within four feet of the flag and finished with a 35-31-66. That score tied the tournament record and Maltbie's 36-hole total of 10-under-par 134 (including 13 birdies and an eagle) eclipsed the previous low by three strokes. It also gave the reformed California free-spirit a whopping six-stroke lead over Hal Sutton, Hale Irwin, Scott Simpson and Peter Oosterhuis.
Saving pars on Nos. 8 and 9 were "the keys to the round," Maltbie insist-ed, but confided "by No. 12, I felt my swing was really good. I got the rhythm; it was my day." While he was feeling that good, someone had the nerve to remind Maltbie that he still held the Memorial record for high score, a 92 in 1979 - with a 50 on the back nine, or 19 strokes more than Friday. Jack Nicklaus, matching Floyd' s 74 opener, rallied with four birdies and no bogeys for a second round 68-142. Floyd dipped to 69-143.
Maltbie began to falter in the third round, which was punctuated by three rain delays totaling almost four hours. He went bogey-bogey-double bogey on No. 9, 10, and 11 and struggled in with a 75 for 209, sharing the lead with Gil Morgan. Morgan loosed the tournament's most spectacular shot, a 4-iron (167 yards) that ran into the cup for an eagle on No. 18 and 67-209. Floyd, who had posted a 69 on Friday, carved out his Muirfield best ever, a 67, in the third round to move within one of the leaders.
Hale Irwin, Bob Gilder, Peter Jacobsen, Tom Purtzer and Scott Simpson were at 211 and 28 other pros were within four shots of them. Floyd, who had made up eight shots on the leaders Saturday, Maltbie and Morgan battled head-to-head in the final threesome Sunday, but others elbowed into a share of the lead temporarily. Jacobsen climbed to the top after five holes, but dropped back with a bogey on No. 6; Simpson joined the front runners at No. 8, but started a slide with bogey on No. 9. By the time they completed the front nine, Floyd and Maltbie shared first at 6-under (tournament) and Morgan trailed by one. The tenth saw a dramatic swing, with Morgan posting birdie, Floyd bogey, Maltbie double-bogey. Maltbie's birdie on No. 11 tied Floyd for second and when Morgan watered his tee shot on No. 12 the three were even.
Floyd took the lead with a 23-foot birdie putt on No. 13 and his march to the title and $63,000 was never headed. There were anxious moments:
No. 15 where he trapped his second, but blasted to within 18 inches for birdie and 7-under; No. 16 where he missed the green off the tee, landing in heavy grass just outside a trap, but executed, "little plop shot" to within five feet and made it for a key par save. Morgan birdied No. 15 for 6-under, Maltbie for 5-under, but Morgan took bogey on No. 16 and Floyd explained, "when you get it down to the strokes you' re leading by (2) matching the number of holes left, you kind a feel you can handle it." He did, without misstep.
Morgan, Maltbie, Jacobsen and Wayne Levi, who had a sizzling front nine, in a final 70, shared runner-up dollars at 283, Bruce Lietzke (5-under after 12 holes Sunday) and Dan Pohl were even at 284 and Nicklaus was among five at 286. There were several other notable feats in Memorial 1982: Arnold Palmer aroused the "Army" with birdies on the first four holes in the second round, but cooled to a 72; Johnny Miller bounced a 3-wood off a tree to within three feet of the pin for eagle on No. 15 in the fourth round and Steve Melnyk had a tournament-record five consecutive birdies in the first round, starting at No. 11.
With soft fairways and slower than usual greens, the Memorial never saw so many red numbers on the scoreboard: 24 par-breakers Thursday, 27 Friday and 36 Saturday (George Archer had 10 birdies in a 65 in the pro-am on Tuesday). But on Sunday, the rain stopped, the sun shone and someone turned on the wind machine to dry out the course. Only eight broke par and 70 was low.
View 1981 Recap