1999 Recap
Dates: June 3 - 6, 1999
Purse: $2,550,000
Par: 36-36=72
Yardage: 7,176

View Scoreboard
---
Leaders
First Round – Lee Janzen opened with a 7-under par 65 to lead Frank Nobilo, Chris Perry and Sergio Garcia by one stroke. Four players were three back. Second Round – Tiger Woods finished with a 6-under-par 66 to move to 10-under-par 134 and lead Vijay Singh and Janzen by two strokes. Third Round – Woods posted a 2-under-par 70 to move to 12-under-par 204 and lead Singh by two strokes. Dennis Paulson was four back.
---
Notes
Cut Notes: 75 players at 4-over-par 148 from a field of 105
Missed Cut: Doug Dunakey (72-77-MC), Steve Elkington (74-75-MC), Scott Gump (75-74-MC), Steve Lowery (75-74-MC), Rocco Mediate (73-76-MC), Steve Pate (74-75-MC), Chris Riley (77-72-MC), Tommy Armour III (72-78-MC), Scott McCarron (77-73-MC), Don Pooley (75-75-MC), Billy Ray Brown (78-73-MC), Paul Goydos (78-73-MC), Shigeki Maruyama (71-80-MC), Ben Crenshaw (77-75-MC), Gabriel Hjertstedt (79-73-MC), Joey Sindelar (76-76-MC), Greg Kraft (77-76-MC), Davis Love III (76-77-MC), David Toms (75-79-MC), Kirk Triplett (78-76-MC), Brandel Chamblee (78-77-MC), Keith Fergus (80-75-MC), David Howell (76-79-MC), Nolan Henke (76-80-MC), Tommy Tolles (76-80-MC), Roger Maltbie (75-82-MC), Michael Bradley (70-88-MC), Patrik Sjoland (83-77-MC), John Huston (72-WD), John Daly (82-WD).
Weather: Sunny and warm Thursday and Friday, with winds around 15 mph. Continued sunny on Saturday, with winds of 10 mph and highs in the mid 80's. Sunny Sunday, with highs in the upper 80's and winds near 10 mph.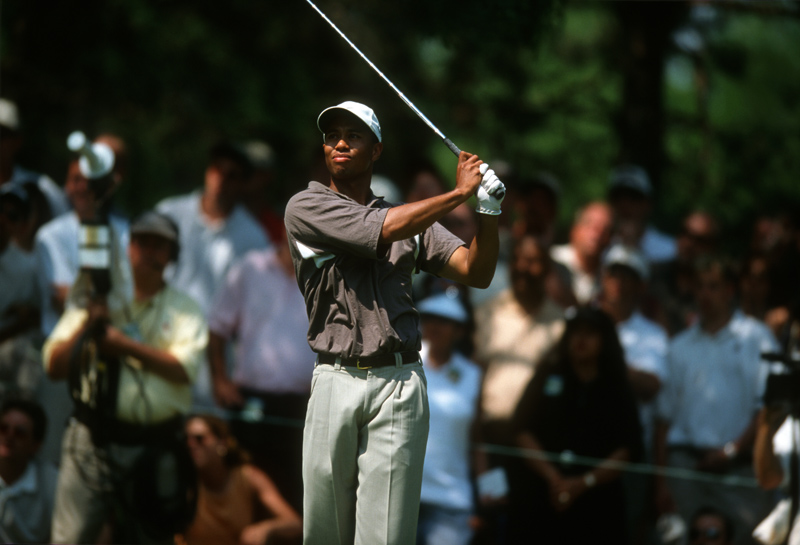 Tiger Woods Wins the 1999 Memorial Tournament
Tighter fairways. Six new greens. Live, 18-hole Sunday coverage compliments of CBS Sports. There was plenty of new going around Muirfield Village during the 24th Memorial Tournament.
There was another first time winner of the tournament as well. Tiger Woods, who entered Sunday play with a two-stroke lead over Vijay Singh and at least a four-stroke lead over the rest of the field, never lost the lead in shooting a final round three-under-par 69, good for a 15-under score of 273. Woods finished two strokes ahead of Singh, who was also three-under on Sunday, and six strokes ahead of David Duval, Carlos Franco and Olin Browne for his second victory of 1999 and a winner's check of $459,000.
Dennis Paulson, Ernie Els, Bill Glasson, Justin Leonard and Kaname Yokoo rounded out the Top 10 with seven-under-par totals of 281, respectively. On a day where Woods played far from a perfect round, it was his patience coupled with timely and incredible shot-making that led to his win. A series of five par saves, all from off the green at hole Nos. 1, 2, 6, 14 and 16, and five key birdies kept Woods just ahead of Singh, who hit 12 of 14 fairways and 15 of 18 greens in regulation and was disappointed at finishing second.
Singh, the 1997 Memorial winner, was bidding to join Jack Nicklaus, Hale Irwin, Greg Norman and Tom Watson as the only two-time winners of the Memorial. "I thought I was going to win," Singh said. "I played better golf than Tiger did today and he won. He scored when he needed to. I hit better shots from tee to green, but he was better on the greens. So that's the end of that."
Woods scored when he had to as he and Singh played even through the first 10 holes. Woods had par-saving putts at Nos. 1, 2 and 6, respectively, after working wedge shots from off the green. At No. 6, Woods flew the green and faced a 100-foot chip from the long grass (while Singh was looking at a 20-foot birdie attempt), which he coaxed to within two feet of the hole. Singh then missed on his birdie attempt. Woods wrapped birdies at No. 5 and No. 7 around his par at No. 6, scoring with, again, magical wedge shots.
Following three straight pars for each competitor, Singh finally was able to cut Woods' two-stroke lead in half with a birdie at No. 11. He then kept the heat on with a marvelous tee shot at the par-three 12th hole, dropping his ball to within five feet of the hole and eyeing a certain chance to tie Woods, whose tee shot settled 15 feet from the cup. But, Woods drained his putt to maintain his one-stroke lead.
"To step up and bury a 9-iron back there and just bury the putt, that I think sent a message that I'm not going to back off," Woods said of his work on No. 12. If that putt didn't send a message, Woods' par at No. 14 certainly did.
Both players missed the green with their second shots and were still off the green looking at par. Woods went first, amazed everyone by chipping in from 25 feet for par and, following Singh's bogey, had a two-shot lead that would hold up the rest of the way. Although Singh admitted afterward that he just didn't make enough putts to win, Woods' shot-making from off the green was the story of this Memorial Tournament.
"I thrive on the short game," Woods said following his win, "because it will demoralize most opponents. I could see what it was doing to Vijay. We're good friends, but he started to get real quiet on the back nine."
Nobody else was even in the picture on Sunday, although Duval closed to within three strokes after an eagle at No. 7. Browne carded a 7-under-par 65 to match three others for the low score of the tournament but the closest he got to Woods was his final score. The players, including Jack Nicklaus, who was playing in his first PGA TOUR event since last June after having hip replacement surgery in January, were greeted by a tougher track for the 1999 Memorial.
"When 80-percent of the fellas tell me the fairways are too wide, then I think maybe I ought to listen a little bit," Nicklaus said. "So that's why I did it, why we narrowed the fairways and made a couple of others a little bit more in tune with how far the golf ball goes now."
Specifically, the players experienced tighter fairways that were narrowed three to 18 yards on Nos. 1, 5, 7, 10, 13, 14 and 17, six new greens - holes 9 - 14 - and additional or larger bunkers on Nos. 10, 13 and 17. Lee Janzen lead after the first round, shooting what would turn out to be a tournament low 65. He was two shots ahead of Sergio Garcia, the 19-year-old pro from Spain who was playing in just his second professional tour event in America, Frank Nobilo and Chris Perry. Janzen played bogey-free for the first 17 holes, but sent his approach on 18 into a greenside bunker and bogeyed.
"I tried to hit too perfect a shot," he said. Garcia and Nobilo also bogeyed 18. Nobilo was still happy with his 67 that featured an eagle on the par-4 14th hole, where he holed a wedge shot from 95 yards. Woods, who shot a 68 in the first round for his best round ever at the Memorial, took the lead into the weekend after firing a 6-under-par 66 on Friday. His 10-under 134 total was good enough for a one-stroke lead over Janzen, who double-bogeyed 18 to give the lead away, and Singh. Woods carded five consecutive birdies from No. 3 to No. 7, eagled No. 11 and parred the final seven holes.
Singh kept pace with birdies on four of the first five holes. He was playing with Janzen and Payne Stewart, a hot threesome that was 14-under-par for the day. Stewart's 65 included a 30 on the front nine.
"I had good momentum going with Payne," Singh said. "We kind of fed off each other with good shots. Then Lee (Janzen) kind of came on late and he was playing very steady."
Mark Calcavecchia made a charge with seven birdies on his way to a five-under-par 67 that left him four shots off the lead. Hot and windy conditions greeted the players on Saturday but when the day was through Woods and Singh were one-two on the leader board. Woods shot a two-under-par 70 while Singh shot a 71 that left him tow strokes off the lead heading into Sunday. "I love leading," Woods said following Saturday's round.
"It's great. I love when people have to come get me. I love to feel that intensity, that fight. It's a great fight." On Sunday Woods put up a great fight. And won. Again.

View 1998 Recap