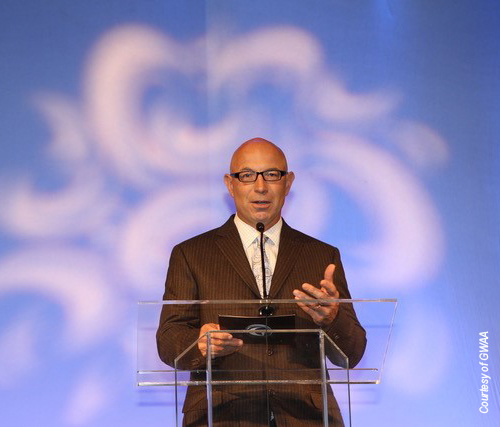 2021
Tim Rosaforte
---
Rosaforte, 65, who lives in Jupiter, Fla., enjoyed a successful career in both print and broadcast journalism. His career began in 1977 at the Tampa Times after graduating with a journalism degree from the University of Rhode Island, where he played linebacker on the football team. He moved from Tampa to the Sun-Sentinel in Fort Lauderdale, Fla., in 1981 and then worked at The Palm Beach Post from 1987-93.
His print career continued at Sports Illustrated from 1994-96 before joining Golf World and Golf Digest as a senior writer for the sister publications. On the broadcast end, Rosaforte served as co-host of USA Network's "PGA TOUR Sunday" program starting in 2003 and then moved to Golf Channel in 2007 as a reporter and analyst. He retired in December 2019 because of health issues and recently was diagnosed with early-onset Alzheimer's Disease.
Jim Nantz, the iconic voice of CBS Sports and fellow Memorial Golf Journalism Award recipient, reached out to Rosaforte in the fall of 2020 to invite him to the Nantz National Alzheimer Center (NNAC) in Houston to seek alternative treatment. Nantz lost his father to Alzheimer's in 2008 and has dedicated his charitable focus to battling the disease. That led to the inception in 2011 of the world-renowned research and referral center in Houston that treats thousands of Alzheimer's patients each year.
"Tim has been a great friend for some 40 years," said Memorial Tournament Founder and Host Jack Nicklaus, who personally called Rosaforte to inform him of his selection by the Memorial Tournament Journalism Committee. "We first met at Oak Hill during the 1980 PGA Championship, and our paths have crossed countless times since. Tim is also one of this generation's great golf journalists. He has developed relationships and trust from so many in the game, and you always knew that if there was an important story to be told in golf, Tim was going to be the first call you received and usually the first one to report it. He has been honored by many organizations and deservedly so, and Barbara and I are delighted that the Committee selected Tim, and that our Tournament now has the opportunity to pay tribute to Tim and his wonderful career."
A recipient of more than 40 writing awards and author of five books, Rosaforte received the PGA of America Lifetime Achievement Award in Journalism in 2014. More recently, he became the first journalist to be given an honorary membership to the PGA of America. Rosaforte is just the 12th person to become an honorary member of the PGA, which is granted after a vote of PGA delegates to recognize individuals for their outstanding contributions to the game of golf.