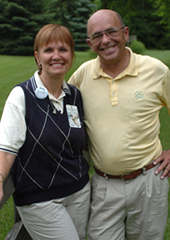 2006
Rick and Nancy Minton
---
I became involved with the Memorial in 1976-the debut year and continued this assignment until 1978. I was not a volunteer at the time-I was there as an "advertisement/PR". My mother owned several Century 21 Real Estate offices and they were one of the first corporate sponsors of the tournament My job was to just walk around the course in my "gold attire" and act like I knew something about golf. I didn't then, but I sure have learned much the past 20 something years of my involvement with the Memorial. I wasn't involved for a few years in between because I was taking care of some important issues in my life. I was planning my marriage to my fiance and fighting for my life. At the age of 24-May 13, 1980-I was told that I had AML-acute leukemia-and had a 3% chance of survival. Obviously, that 3% was on my side. I went into remission on Aug. 22, 1980. Rick and I got married Nov. 15, 1980. My mother bought me a "wedding wig" due to my baldness. The joke is Rick and I both were bald-headed-mine came back-he just keeps losing his.
The doctors also told us that I could never have children because of all the chemotherapy I had. Michael Alan Minton was conceived 6 weeks after my final chemo treatment. He was born Mar. 19, 1982. Mark David Minton was born June 22, 1984. So much for no children. Our two miracle sons and my life-who could ask for more? Rick had 2 sons from a previous marriage. The boys came to live with us when they were 15 and 10. I went from having no children to raising 4 boys. Rob, Matt, Michael & Marky.
Our family was truly blessed. I became involved with the American Cancer Society as a volunteer in many aspects. I loved volunteering and remembered how much I enjoyed the atmosphere of the Memorial and what better charity than Children's Hospital. I started with the Memorial in 1983 and thought the "duplicating" area looked very interesting.
Here it is 2006, and I am still basically in the same area. Rick started coming to the course with me and would follow the players while I "worked". In 1986 he decided he wanted to volunteer also. He started on a Leader board but the following year we needed someone on the PGA board next to the Information tent. Rick worked that board off and on for the next few years and also working in the Press Room.
In 1992, I had the honor of being asked to sit on Women's Committee as Assistant Chair for Duplicating. I accepted. I only served one year as assistant before becoming Chair for the next 2 years. Michael and Mark became involved as runners when they were old enough-then they moved on to Cub Care and loved taking care of the players children. I loved being on Committee and met so many wonderful friends.
After my chairmanship was over I stayed with the area and helped with the changes and transitions that were transpiring. Technology was advancing and the area was decreasing in size and need. Rick had moved on to press room full time and is still there as the Press Room guru. Duplicating area doesn't even exist anymore but I still have the best job on the course. I work in "Irv's hut", the scoring house on 18. It used to be a canvas cover, then a tent, now it is a hut. They gave us air conditioning last year. I get the privilege of seeing all the players when they finish their round for the day and help Irv with the score cards. Irv is the PGA official for the cards. Rick & I have become close friends with him over the many years together.
Our boys all grew up and we are now grandparents to 3 beautiful grandsons-all Robs. Matt has lived in Phoenix for many years and is a guitar craftsman. Marky is 21 years old-and has been an actor since he was 5. He is graduating May 12, 2006 from the Chicago College of Performing Arts with a BFA in theater. He will stay in Chicago and work is craft. Now for Michael. . . . .My first miracle son. He is a musician, composer, recording engineer and most of all a SURVIVOR and a FIGHTER.
Michael was attending Middle Tennessee State Univ. studying music production and working for UPS in Nashville. He was having back pain and when he finally had a MRI they found a very large tumor in his left pelvis. My brother Scott and I went to TN to bring him home. At the age of 22, on July 20, 2004, our beautiful son was diagnosed with osteosarcoma (bone cancer) in his pelvis-wrapped around his sciatic nerve-it had also spread to his lungs. He has been fighting this battle since then. On Feb. 3, 2005 they felt that they had eradicated his cancer and they needed to remove the dead tumor. They felt the only way they could save his life was to remove his left hip, leg and pelvis. We prepared ourselves for that but 4 hours into the 14 hour surgery they came out and told us that they were attempting to save his leg. And they were successful. Things were good a while but the cancer came back in his lungs and he had lung surgery Aug. 05. I am actually in Houston, Tx writing this.
The cancer is back in Michael's left lung and his soft tissue of his left buttock. He was being treated at the James Cancer Hospital at OSU initially but after the recurrence and more chemo the drugs were not working so they sent us here to MD Anderson Cancer Center for treatment. IT IS WORKING! After only one treatment the doctors can see the tumors shrinking. We have been here since March 13, and may get to come home for a few weeks in May.
Michael became engaged to his high school sweetheart during Valentine's weekend. He and Anya are getting married November 25, 2006. Thanksgiving weekend seems appropriate. We are a blessed family. Rick & I plan on being in our "positions" this year at the Memorial. Michael's TX chemo schedule looks like it may accommodate us with that. We see a lot of children here in TX and I know that being a part of the Memorial and helping Children's Hospital is only a part of God's plan for our family.
Pay it Forward... That is what life is all about. Thank you for this honor. Rick and I are very humbled and excited to be chosen as the first "couple" volunteers of the year. We will carry the title proudly. Bless you, Nancy & Rick Minton