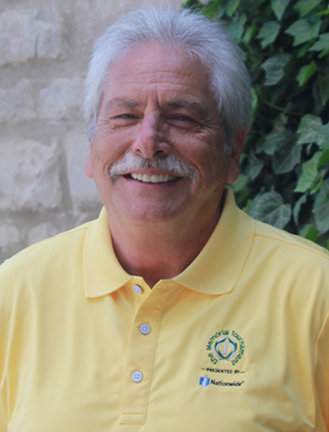 2016
Bruce Ratliff
---
Bruce is a longtime (8 years) Scoring & Data volunteer and is reliable beyond any normal expectations! During the 2015 Tournament, we asked Bruce if he would help us out with Player Evacuation check-in each day of the tournament since we would be out on the course getting set up for the day. Bruce gladly accepted and was there early each morning to check-in the PE volunteers. He would then step into his role as an S&D Relief volunteer.
Most days he was scheduled to work on a later hole which would normally mean he didn't have to come in so early but instead he was at the course hours (often arriving at the same time as us ~ 5:45 a.m.) before he was scheduled so that he could help us set up and check-in PE volunteers. So, for Bruce his day was typically much longer than a 12-hour shift – more like a 14-hour shift, especially on Thursday and Friday. Additionally, it is important to note that Bruce lives in Dayton so he commuted to the course every day from Dayton.
If we have new volunteers, we can rely on Bruce to help them get comfortable with the equipment as he typically signs up for a "relief" position with our group which means he roves between holes rather than staying stationary all day. So many of our volunteers are eager to request their "favorite hole" in hopes of getting to witness amazing golf from their favorite spot on the course. Every year Bruce signs-up and says "just put me where you need me". As a matter of fact, just a week ago Bruce texted me and said "Anything in particular you would like me to sign up for… I have no preference. I'll sign up for relief but put me where you need to."
Bruce was the first to volunteer and told us countless times to "just put me where you need me". When any "sticky" situation arises, we know we can call on Bruce and he's there to help us handle the situation with his calm, laid-back demeanor.